Community Profiles Mission Beach
Community Area: Coastal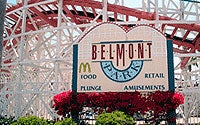 The Mission Beach community planning area is located on a sand bar/peninsula two miles long and up to 1/4 of a mile wide along the western edge of the mid-coastal region of the City of San Diego. It is bounded on the north by Pacific Beach, on the east by Mission Bay, on the south by the San Diego River (with Ocean Beach on the opposite bank) and on the west by the Pacific Ocean.
Because of the difficulties of developing on sand, Mission Beach developed later than its neighbors, Pacific Beach and Ocean Beach. In 1914, encouraged by land sales in these neighboring communities and a new bridge connecting Mission Beach with Ocean Beach, businessman John D. Spreckels offered lots for sale, resulting in a tent community focused on a swimming pool, a bayfront pier and a bath house.
In 1922, the City's new health code required the removal of all non-permanent buildings. In 1925, in order to stimulate real estate sales and to promote his electric railway, Mr. Spreckels built the Mission Beach amusement center, now called Belmont Park. Upon his death, he granted Belmont Park to the City. The removal of the rail line and the bridge to Ocean Beach and the development of West Mission Bay Drive through Mission Bay Park resulted in the current circulation system.
The majority of the original residential structures in Mission Beach were constructed in the 1930s and 1940s. However, development pressure has led to the redevelopment infill of much of Mission Beach, focusing primarily on properties that are adjacent to the water and in the southern area of the community. Mission Beach is the most densely developed residential community in San Diego with a land use designation over the majority of its area of 36 dwelling units per acre. It is also comprised of the smallest lots in the city, with standard lot areas ranging from 1,250 to 2,400 square feet. Few of these lots have been consolidated to form larger lots.
In 1970, a Mission (Beach)-Pacific Beach Community Plan was adopted. In 1974, the City Council amended the 1970 plan to remove the Mission Beach planning area from it and adopted the Mission Beach Precise Plan.