Community Profiles Peninsula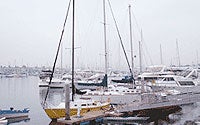 The Peninsula Community Planning area encompasses about 4,409 acres (approximately 7 square miles) and is bounded by the Ocean Beach community (split off and founded in 1975) and the Pacific Ocean on the west and south, the San Diego River Flood Control Channel and the Midway community on the north, and San Diego Bay and Port tidelands on the east.
The Peninsula community is a highly urbanized community, comprised of a number of relatively distinct residential neighborhoods including: Ocean Beach Highlands, Point Loma Highlands, Loma Alta, Loma Palisades, Loma Portal, Fleetridge, Roseville, Sunset Cliffs, Wooded Area, La Playa, and Liberty Station (the former Naval Training Center).
Also within the Peninsula community are several commercial core areas - Roseville, Voltaire Street Corridor, the Point Loma Village, and Point Loma Nazarene University. In addition, Peninsula includes three major regional recreational resources - Sunset Cliffs, Shelter Island and Cabrillo National Monument with another destination currently under development at Liberty Station.
Several areas were added to the Peninsula study area in the late 1970s to facilitate preparation of the Peninsula Local Coastal Program Land Use Plan. These areas included the Naval Training Center and the Point Loma Naval Complex facilities, former federal lands, Shelter Island and adjacent areas, which are under the jurisdiction of the San Diego Unified Port District, were included in the 1968 Plan.