Community Profiles: Rancho Bernardo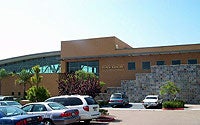 Rancho Bernardo is the northernmost residential community within the City of San Diego. Rancho Bernardo is centered on Interstate 15 just south of Hodges Reservoir and the San Pasqual Valley. The community planning area encompasses approximately 6,511 acres. Rancho Bernardo is a master planned community that includes private parks and clubs for each neighborhood in the community.
In 1962, the City Council adopted the original Community of Rancho Bernardo. Since then, the development/community plan has undergone revisions in 1966, 1971, 1978 and 1988. The two early revisions were made based upon findings of coordinated public agency and community developer planning studies. In 1978, the format of the plan was changed from development to community plan.