Community Profiles Serra Mesa
Draft Serra Mesa Community Plan Amendment Street Connection
Serra Mesa Community Plan Amendment
The Serra Mesa Community Plan is undergoing an amendment to include a street connection. The proposed amendment would revise all relevant maps in the currently adopted Serra Mesa Community Plan to show a street connection south of Phyllis Place as a four lane collector road including bicycle and pedestrian facilities. The Amendment was initiated by City Council on October 21, 2008.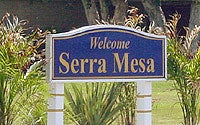 The community of Serra Mesa developed in the years after World War II with military multi-family housing and later single family homes, apartments and support retail. Most of the community and its 8,361 dwelling units had been built by 1970. The community also includes a health-institutional complex anchored by Sharp and Children's hospitals, and is further characterized by north-south oriented canyons that drain into Mission Valley to the south.
Community Plan Amendment to Implement the Airport Land Use Compatibility Plans (ALUCPs)
The City is currently processing amendments to the Land Development Code and minor amendments to affected community plans, as necessary, to implement the adopted Airport Land Use Compatibility Plans policies. The proposed community plan amendments do not change adopted community plan land use designations or policies.