Community Profiles: Southeastern San Diego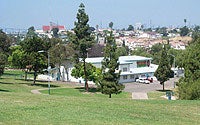 The Southeastern San Diego Community lies south of the Martin Luther King Jr. Freeway (state Route 94), west of Interstate 805, east of Interstate 5, and shares a border with National City. Southeastern San Diego includes the neighborhoods of Sherman Heights, Logan Heights, Grant Hill, Memorial, Stockton, Mount Hope, Mountain View, Southcrest and Shelltown.
Southeastern San Diego is a large urbanized and ethnically diverse community located adjacent to downtown San Diego. The original Southeast San Diego Community Plan was adopted by the City Council in 1969, and became the basis of the City's "Model Cities Program." In 1987 the community plan was updated and adopted by the City Council. One of the features of this community plan is the identification of the various neighborhoods within the planning area. This includes a move toward establishing neighborhood identity which is linked to each neighborhood's culture and history through the involvement of citizens and the establishment of revitalization teams.
---
---
---
---