Community Profiles Torrey Pines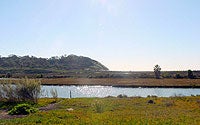 Torrey Pines is located in the northern coastal region of the City of San Diego and is bounded by Interstate 5 on the east, the City of Del Mar and the Pacific Ocean to the west, the City of Solana Beach to the north, and the University community to the south.
The Torrey Pines Community planning area encompasses approximately 2,600 acres. Approximately 24% of Torrey Pines is designated for residential development, one percent for commercial, 15% for industrial, 42% for parks and open space, one percent for schools, and 17% for railroad, freeways and streets.
The residential neighborhoods are situated primarily in the Del Mar Terraces and the Del Mar Heights area in the central portion of the community. Small areas of commercial development are located along two transportation corridors in the community, Del Mar Heights Road and Carmel Valley Road. Industrial development is located in the southern portion of the community within Sorrento Valley.
Torrey Pines is characterized by an abundance of sensitive environmental resources and contains a number of major local and regional open space parks. The community contains large areas of Torrey Pine trees, lagoons, wetlands, sandstone bluffs and canyons that provide a unique environment for those who live, work, and visit this coastal community.