Documents and Reports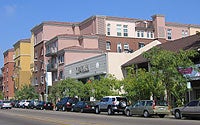 The following is a compilation of documents and reports related to the General Plan Update.
  The General Plan Monitoring Report was prepared to fulfill an Action Plan requirement that the Planning Department monitor progress toward implementing the City of Villages strategy.
  A Commitment to Public Involvement  - Outlines the public outreach process designed for the Strategic Framework Element.
  City of San Diego Consolidated Plan 2010-2014 - A plan for housing needs and strategies in San Diego.
  City of San Diego Facilities Financing Study, August 2002 - This study was prepared by an independent municipal finance adviser and recommends possible financing options based on comparisons with other California cities.
  Community and Economic Development Strategy, 2002-2004  - This city report focuses on San Diego's economy and recommends ways to improve it.
Strategic Framework Element, Final Environmental Impact Report - The final EIR for the City of Villages Strategy Strategic Framework Element. The official document, containing this same information, may be obtained as a hard copy for $90 by contacting the City's Development Services Department at (619) 446-5460. Sections of Final Environmental Impact Report listed below:
  Five-Year Action Plan, Final Version - The Five-Year Action Plan is the implementation program for updating the General Plan, amending community plans, and identifying other steps necessary to execute the City of Villages growth strategy. This final version reflects the changes made as a result of the final motion adopted by City Council at the Oct. 22, 2002 hearing.
The General Plan has a strong sustainability focus. A  

Sustainability Brochure has been prepared to provide information on the City's sustainability initiatives.