Community Plans
A community plan is a public document which contains specific proposals for future land uses and public improvements in a given community. A community plan is part of the City's General Plan. It provides tailored policies and a long-range physical development guide for elected officials and citizens engaged in community development.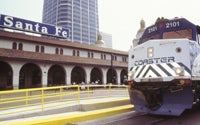 Transportation is just one of the elements
found in the Community Plan
Typical elements found in a community plan include:
Land Use
Transportation
Urban Design
Public Facilities and Services
Natural and Cultural Resources
Economic Development
Community Plan Development
The General Plan recognizes historical patterns of development where, over time, common land use issues and themes have arisen. Those issues and themes, in conjunction with natural topographic and human-made barriers, have developed into sub-areas of the City for which community plans have been developed. The community planning process allows refinement of citywide goals and policies to address issues unique to that community to be best addressed. A community plan is developed through a partnership of the recognized Community Planning Group, the public, and City staff, working together to identify land use policies and recommendation to guide future development of the community.
Community Plan Characteristics
A community plan must meet a list of characteristics.
List of Communities