Airport Mobility and Land Use Compatibility Planning
Promote multi-modal mobility to the San Diego International Airport and ensure compatible land use planning.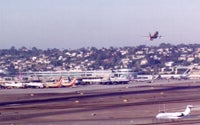 San Diego International Airport.
The City is coordinating with the Airport Authority
to improve connections to SDIA and
work on land use compatibility issues.
The City is home to the San Diego International Airport - Lindbergh Field, Brown Field and Montgomery Field general aviation municipal airports, and Marine Corps Air Station Miramar. In addition, although they are outside the City, Naval Air Station North Island, Naval Outlying Field Imperial Beach, Gillespie Field, and Tijuana International Airport have airport operations that affect the City. As the owner and operator for Brown and Montgomery Fields, the City is responsible for preparing the Airport Master Plans for each airport, which serve as the plans for future airport development. The City works with the San Diego County Regional Airport Authority and SANDAG in planning, providing, and expanding multi-modal transportation facilities between Lindbergh Field and the region's major activity centers.
The City strives to ensure land use planning is compatible with airport operations. State law requires that the Airport Authority, as the Airport Land Use Commission (ALUC), prepare Airport Land Use Compatibility Plans (ALUCPs) containing the policies and procedures for land use and airport compatibility for areas surrounding each airport. The City coordinates with the ALUC and airport operators on preparing and amending, community plans, zoning, development regulations, and the review of certain development proposals within airport influence areas to ensure protection of residents, workers, visitors, and airport operations.
Status
The Airport Authority updated ALUCPs for the following airports: MCAS Miramar; Brown Field; Montgomery Field; and Gillespie Field. The City is proposing to implement the updated ALUCPs policies for these airports by amending the Land Development Code community plans as necessary.
Draft Community Plan Amendments:
The Airport Authority will be updating the ALUCP for San Diego International Airport and preparing ALUCPs for NAS North Island and NOLF Imperial Beach. The City will take steps to implement these ALUCPs, as necessary, after their adoption by the Airport Authority.
For more information, please contact:
Community Plan Amendments or the ALUCPs
Tait Galloway at 619-533-4550 or [email protected]
Land Development Code Amendments
Amanda Lee at 619-446-5367 or [email protected]
More Information
Airport Land Use Commission Consistency Determination Review Process