Friends of the San Diego Public Library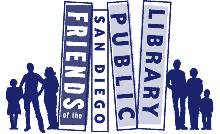 The Friends of the San Diego Public Library is a group of volunteers who support the Library and its services and programs through various activities, including fund raising events, volunteer support, programming support, book sales, and in other ways. Please contact the Friends to find out more:
4193 Park Blvd.
San Diego, CA 92103-2510
Phone: 619-542-1724
Local Branch Friends' Groups
Many branch libraries have Friends of the Library groups that conduct book sales and host interesting events that support the Library. To find out about the branch groups, please contact the Branch Library directly for more information about its Friends group.