Advocacy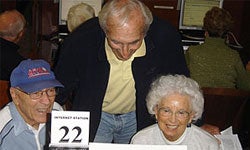 Private support is crucial to the San Diego Public Library. The Library receives its annual appropriation from the City of San Diego's General Fund and competes for funding with other City services like police, fire, sanitation and health care. Private support for the library is more meaningful than ever. Private money helps ensure quality programs, materials and services at your Library.
We are grateful that generous library volunteers, individuals, Friends' groups, foundations, corporations and service organizations enable the Library to purchase up-to-date materials including books, DVDs, electronic databases, eAudiobooks, CDs and periodicals. Private gifts help:
Expand technology access and support programs.
Provide literacy programs like READ/San Diego.
Support the Summer Reading Program for Children.
Add new books, DVDs, CDs, and E-books.
Upgrade and replace old equipment.
Allow for free concert, film, and author presentations.
Ways to Support the Library
Donating Your Time and Energy
Join the Friends of the San Diego Public Library and support the Library and its services and programs through fundraising events, programming support and book sales. Most branches have a Friends of the Library group to support branch activities.
Volunteer at the Library! The San Diego Public Library needs individuals willing to contribute their time and expertise. Sign-up for E-news to receive regular updates on library issues.