La Jolla-Riford Branch Library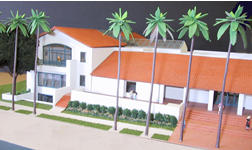 | | |
| --- | --- |
| Location: | 7555 Draper Avenue at Pearl Street |
| Architect: | Architects Mosher Drew Watson Ferguson |
| Size: | Expansion to 24,745 square feet |
| Construction: | Completed March 2004 |
| Estimated Cost: | 4.7 million |
The Joan &amp Irwin Jacobs Library Annex to the La Jolla-Riford Branch Library had its grand opening on March 27, 2004, with a major community celebration. The expansion more than doubled the size of the original library. Construction began on the expansion of the La Jolla-Riford Branch Library on Oct. 7, 2002.
The expansion included a multi-level addition with a children's library, young adult area, La Jolla history room, reading room, meeting rooms, and stack areas for a 120,000-book capacity. Public art and display space includes wrought iron stair rails and a gate, sculpted light fixtures, a stained glass wall, and art and photo galleries.
Remodeling of the existing library structure provided a computer lab with high-speed Internet connection, a Friends of the La Jolla Branch Library store, and expanded collections.
The original library, also designed by Architects Mosher Drew Watson Ferguson in 1989, reflects the unique seaside community in its architectural context, historical building materials, coastal environment, and strong community support and usage.
Functionally efficient and sensitively integrated, the community meeting room is conveniently adjacent to the main entrance; an adult reading area offers a cozy fireplace; and a separate children's reading area incorporates scaled and inviting window seats. The main desk is close to the staff workroom and the lounge area provides open and unobstructed views. An exterior courtyard and fountain provide overflow reading space in a pleasant outdoor retreat, while on-site parking areas are screened by low courtyard walls and a flowering landscape.
For more information, visit the Friends of the La Jolla Library website.