Logan Heights Branch Library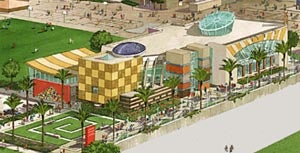 | | |
| --- | --- |
| Location: | 567 South 28th St |
| Architect: | Martinez + Cutri Corp |
| Size: | Approximately 25,000 square feet |
| Construction: | December 2007 |
| Completion: | Opened December 11, 2009 |
| Estimated Cost: | $13,702,403 |
The new two-story, 25,000-square-foot library is located on the Logan Elementary School site, adjacent to the Memorial Charter Middle School. The new facility replaces the old 3,967-square-foot branch library built in 1927.
In December 2002, the City of San Diego was awarded a $5.25 million state grant to complete funding for this $13.7 million project.
The book collection of the branch is expected to grow to approximately 73,000 items. There are 66 public computers, compared to the eight available at the old branch. While there was no dedicated parking for the old facility, the new library has 186 dedicated parking spaces.
A joint use agreement between the City of San Diego Public Library and the San Diego Unified School District with a plan of service has the following special features:
A state-of-the-art library with a computer lab of 35 computers, all with a priority for the students.
Digital Reference Center that includes 12 computers.
School textbook collection for after-school and weekend access.
Computer Lab with 35 computers and educational software (recommended by the school district), staffed by a teacher and a library assistant.
Centro Cultural, a cultural center for student programs, exhibits and displays.
Joint personnel decisions.
A "Homework Hotline" phone dedicated for school faculty and student access from classrooms.
School priority for all meeting rooms, labs and seminar rooms.
A bilingual collection of books and other materials.
A "Techno Teen" program that will allow older students to help younger ones with the computer research.
A Teacher Resource Collection of books and materials on teaching and curriculum ideas.
A 300-seat community room, the cornerstone of the "Centro Cultural," that showcases students and brings cultural programming to the community.
A "teen board" for children to help plan the programs and activities that relate to them.
Programs developed by school and library staff around the curricula.
Part of the Joint Agreement the City with the school district also includes a renewable property lease of $1.00 per year for a minimum of 50 years.
Also, the new Logan Heights Branch is home to one of four Preschooler's Door to Learning Centers at San Diego Public Library locations. Centers are designed to promote school readiness from infancy, providing services for self-enrichment and allowing children to discover the pleasures of reading and learning. The centers are a designated portion of a library designed exclusively for children younger than 5 years, their parents and caregivers. This area also includes space and equipment for the Families for Literacy Program.