Otay Mesa-Nestor Branch Library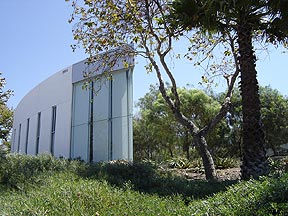 | | |
| --- | --- |
| Location: | 3003 Coronado Ave. |
| Architect: | Safdie Rabines Architects |
| Size: | Expansion to 15,000 square feet |
| Construction: | Opened April 7, 2006 |
| Cost: | $4.9 million |
The Grand re-opening of the renovated and expanded Otay Mesa-Nestor Branch Library was on Friday, April 7, 2006.
The branch library was expanded from 10,000 square feet to 15,000 square feet. The additional space provides more room for books and other materials, larger meeting and conference rooms, and a computer lab. The project also included repairs and improvements to the original building. In addition, the expanded library now features a tranquil, outdoor courtyard. The $4.9 million project was designed by Safdie Rabines Architects.
The new Otay Mesa-Nestor Branch extends the mission of the facility beyond that of merely a home for books. It embraces the notion of a place, which is an important resource and anchor for the community. The new public entrance and lobby has been created to become a link between the traditional library functions of the existing building and the new community rooms. The new entrance brings visitors off the street, down into the library and aligns it's axis with a new outdoor courtyard. The courtyard, which is visible from the existing library, new addition, and from the street, is an extension of the interior space for community events as well as a quite place for reflection and reading.
The existing 10,000-square-foot building maximizes day lighting and views of the courtyard. It has been reconfigured to create efficient use of new stacks and reading alcoves for children. The new 5,000-square-foot addition housing the community meeting and media rooms. It has a place of prominence at the corner of the site where a 20-foot-tall structural glass wall gives a glimpse of the main community room to the public from the street. The use of teak hardwood flooring and stone floors coupled with the scale of the room further reinforces the building as an anchor for the neighborhood.