Food Establishment Wastewater Discharge (FEWD) Program
Working to Keep Our Sewer Lines Free of Cooking Fats, Oil and Grease
Sewer spills related to cooking grease produced at food preparation facilities, such as restaurants, delis and cafeterias, have decreased dramatically since the creation of the City of San Diego's Food Establishment Wastewater Discharge (FEWD) Permit Program in 1989. FEWD is responsible for the permitting and compliance monitoring of food service establishments to control the discharge of grease into the wastewater collection system per the City of San Diego Municipal Code Division 7 and the 2010 California Plumbing Code section 1014.0. The program also conducts investigations to determine sources of grease-related sewer main blockages.
All food service establishments within the City are required to obtain a permit from FEWD. The permits ensure that the facilities install the appropriate grease-removal equipment designed to trap cooking fats, oil and grease before it enters the wastewater system. In addition to permitting and inspecting food service establishments, the FEWD program also performs plan checks for new, remodeled and retrofitted facilities and undertakes special inspections when a sewer spill caused by grease occurs. If you need to contact FEWD to have a plan check or need more information about grease-removal equipment, call 858-654-4188.
Grease Interceptors and Grease Traps 
More than 5,000 facilities in the City of San Diego are currently permitted by the Food Establishment Wastewater Discharge (FEWD) Program. Approximately 4,500 of these facilities use what is known as a Hydromechanical Grease Interceptor (HGI) previously referred to as a grease trap. The HGI prevents excess grease from getting into the sewer system from existing plumbing lines within facilities. HGIs are small and are usually installed inside a facility. Generally, they range in size from 20 gallons per minute to 75 gallons per minute.
More than 1,400 facilities, usually high-volume or new establishments, use a Gravity Grease Interceptor (GGI), previously referred to as a grease interceptor, which are larger than the HGIs and are installed underground, outside of a facility. Grease is actually "intercepted" in these concrete or plastic composite tanks before it reaches the City sewer main. Concrete GGIs should be accessible by three manhole covers, and all GGIs or equivalent tanks require a sample box.
GGIs and HGIs cause the flow of water to slow down, allowing the grease to naturally float to the top of the tank for easy removal.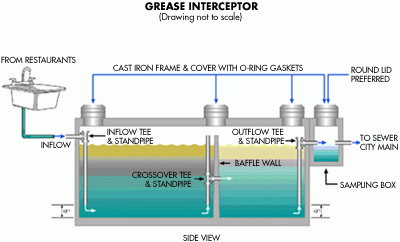 Plan Checks and Inspections
All plans for new commercial food service establishments (including new construction remodels and retrofits) must receive a plan review from the Food Establishment Wastewater Discharge (FEWD) Program. The review assures that appropriate grease-removal equipment is installed during construction. Approximately 75 plan checks are performed each month by FEWD. Currently there are no fees to perform a plan review from FEWD.
Shortly after sewer spills caused by grease are reported, FEWD inspectors investigate facilities within the immediate area. A determination is made as to which commercial facilities contributed to the blockage, and more in-depth inspections are conducted at those facilities. Where appropriate, additional requirements and/or procedures are put in place.
When requirements are made for additional grease-removal equipment, the facility is given a due date to comply. A Notice of Violation, with an administrative fee is issued once a facility has passed its final due date. Administrative hearings, permit revocation, and ultimately, termination of sewer service may occur for those facilities that remain out of compliance.