Supporters
Pure Water San Diego is supported by environmental groups, businesses, community leaders and several other local organizations. View a

complete list of supporters of Pure Water San Diego.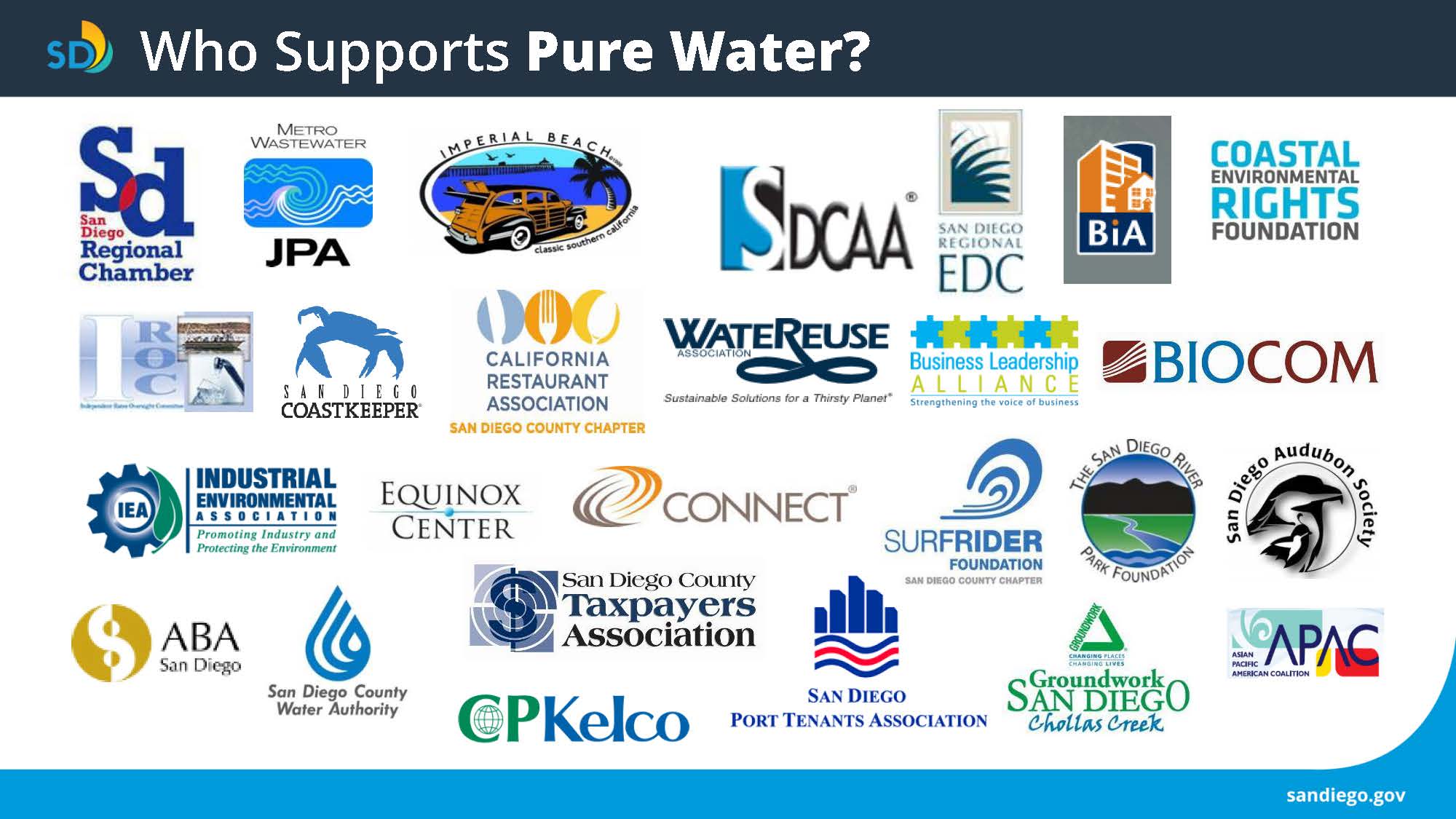 Testimonials
We are grateful for the support provided by members of the San Diego community. Click on the links below for testimonial video clips about the program and its impact.
The Science Behind the Water Purification Process
"We're doing with technology what used to take years or decades to do in a matter of a few hours."
-Lois Fong-Sakai, Civil and environmental engineering expert
The Benefits of the Water Purification Process
"When you look at the fact that we are at the end of the pipe, that we import almost all of our water, this is going to give us a new reliable local source of water that we just haven't had before."
-Marco Gonzalez, Executive Director, Coastal Environmental Rights Foundation
"Consistently after people have learned more detail about how the [water purification] process works, they have come around to understanding and supporting the process."
-Judy Swink, Citizens Coordinate for Century 3
Support for the Demonstration Project
"San Diegans should know that this project is supported by a broad coalition of people."
-Amy Harris, former Development Director of the San Diego Taxpayers Association
Cooperative Agreement in Support of Pure Water San Diego
In 2014, the City of San Diego entered into a Cooperative Agreement with San Diego Coastkeeper, San Diego County Surfrider Foundation, Coastal Environmental Rights Foundation, and San Diego Audubon Society for purposes of supporting and implementing Pure Water San Diego and achieving secondary equivalency at the Point Loma Wastewater Treatment Plant.
The plan to achieve 83 million gallons per day of purified water production by 2035 is included in this Cooperative Agreement, which can be viewed in its entirety at the link below.

Cooperative Agreement in Support of Pure Water San Diego