Dispatch Process
San Diego's Fire/EMS Dispatch Center handles more than 130,000 emergency calls annually.
In addition to emergency calls, EMS/fire dispatchers handle thousands of other calls and requests for services such as fire lane violations, fire hazard concerns, fire alarm testing notifications, etc. They also answer routine administrative calls from allied agencies, citizens, and city personnel.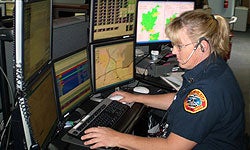 The Emergency Command and Data Center Staff
9 Fire/EMD Dispatchers
2 ALS Ambulance System Status Controllers
1 Shift Supervisor
1 Command Battalion Chief
Dispatchers work either 10 or 12 hour shifts. The Command Battalion Chief is assigned to supervise daily operations and works a 10 hour shift.
When Your 9-1-1 Fire/EMS Call Comes into the Emergency Command and Data Center
Your 9-1-1 call is the ECDC's top priority!
Your 911 call is routed to a PSAP, based on where you live/work. San Diego city and Chula Vista city 911s are routed to their respective Police Departments. Poway, National City and Imperial Beach calls are routed to their law enforcement agency, the Sheriff's Department.
If your call is medical or fire related, your call is transferred by the primary PSAP to the Metro Zone Emergency Command and Data Center.
Your call is answered by a call-taker (dispatcher) at San Diego Fire-Rescue who uses a Computer Aided Dispatch (CAD) system to enter your call for service.
If you are calling from your home/business phone (landline), your address and phone number are displayed to the dispatcher. If you are calling on your cell phone, it is important that you realize that the dispatcher has your phone number, but does not have your address! The Automatic Location Identification (ALI) will only display the cell tower location.
Computer Aided Dispatch
While the 911 dispatcher confirms the caller's location, the Automatic Number Identification (ANI)/ALI information is automatically downloaded into the CAD system. The entire process of call-receiving, dispatching, and emergency resource monitoring is accomplished through CAD.
Click here to see a display of the current incidents dispatched by San Diego Fire-Rescue.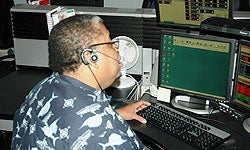 Emergency Medical Dispatchers
All Fire Dispatchers are certified as Emergency Medical Dispatchers (EMDs) and use a nationally recognized protocol called Medical Priorities Dispatch System (MPDS) which is integrated into the CAD system. MPDS includes Chief Complaint/incident type protocols which help EMDs quickly obtain vital information about patient status and scene conditions. The EMD then uses this information to send the appropriate response configuration as determined by local medical and EMS control. The MPDS also includes Dispatch Life Support (DLS) treatment sequence protocols covering arrest, choking, and childbirth. These protocols enable a trained and certified EMD to assist the caller in immediately helping the patient.
The MPDS protocols ensure that trained and certified EMDs properly carry out the following four important activities:
Structured and rapid caller interrogation and patient evaluation
Accurate selection of the appropriate EMS unit response
Relay of important patient and scene information to field responders
Provision of essential Dispatch Life Support