Environmental Response Team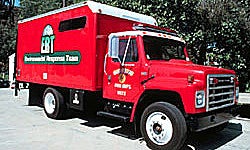 The Environmental Response Team (ERT) responds primarily to incidents involving abandoned waste that is potentially hazardous, yet does not require the higher level of staffing, equipment or expertise of a Hazardous Materials Team.
The Environmental Response Team's operations are supported by fire station personnel. Persons assigned to ERT are Hazardous Materials Technicians who have specialized training related to manifesting, packaging and transporting hazardous waste.
Typical ERT responses would include:
Spilled paint
Leaking car batteries
Motor oil
Abandoned household hazardous wastes