Metro Arson Strike Team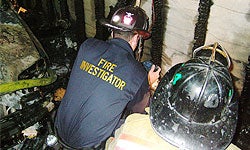 The Metro Arson Strike Team (MAST) is called if an incident involves a suspicious fire or explosive devices.
MAST was formed in 1980 in response to a growing arson problem in the city, as evidenced by the devastating fires at Balboa Park's Old Globe Theatre and Aerospace Museum in 1978.
MAST investigators are cross-trained to achieve expertise in both /fire/explosives investigation and police procedure. Fire investigators are peace officers, have powers of arrest, and are armed.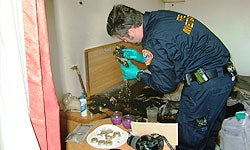 Staffing is arranged so that the City of San Diego has coverage for fire investigations and critical explosives and bombing incidents 24-hours a day, 365 days a year.
The Metro Arson Strike Team is staffed by:
San Diego Fire-Rescue Department
San Diego Police Department
U.S. Bureau of Alcohol, Tobacco and Firearms - ATF
U.S. Federal Bureau of Investigation - FBI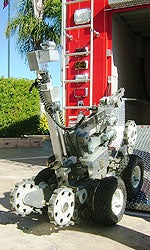 In addition, MAST utilizes a variety of specialized equipment in examining fire scenes and conducting explosives related operations. One of the unique resources is Andros, the bomb disposal robot.
MAST responds to incidents fitting these criteria:
Fire Related
Incendiary or suspicious cause in structures
Estimated property loss of $25,000 or more
Vehicle fire with a suspicious or undetermined cause
Serious injury or death has occurred (excluding traffic collisions)
Part of an identified arson series
Grass or rubbish involved and there is a known suspect or suspect information
Caused by a juvenile with prior fire setting history or uncooperative parents
Suspect in custody or information likely to lead to an arrest is available
Any situation in which the incident commander believes a response is desirable
Explosives Related (See Bomb Squad)
Found bombs, munitions, suspected bombs, and hoax devices
Explosions
Evaluation of suspicious items
SWAT Critical Incidents (when requested)
Dignitary protection operations (when requested)
Routine ammunition and fireworks recoveries