Urban Search And Rescue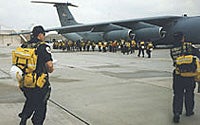 If you have a major disaster in your community, Urban Search & Rescue (US&R) is on the scene to help. US&R is a rapid deployment team consisting of 70 technical rescue, and incident management specialists.
The San Diego task force is specially trained to assist local agencies throughout the nation in mitigating large scale urban disasters, both natural and man made. Through the San Diego Fire-Rescue Department, the City of San Diego coordinates San Diego County's Urban Search and Rescue (US&R) Task Force 8.
The San Diego teams' expertise is "confined space search and rescue" where structures have collapsed. San Diego team members have been dispatched to the World Trade Center after Sept. 11, 2001, the Northridge earthquake in 1994, the 1995 Oklahoma City Federal Building Bombing, and several hurricane disaster areas, including when Hurricane Katrina struck Louisiana in 2005.
Members of the team come from a large variety of emergency and non-emergency agencies and companies in the greater San Diego County Region:
Balboa Naval Hospital San Diego
California Dept. of Forestry
Carlsbad Fire
Chula Vista Fire
Coronado Fire
El Cajon Fire
Encinitas Fire
Escondido Fire
Montebello Police
Oceanside Fire
Poway Fire
Rancho Santa Fe Fire
Santee Fire
San Diego City Fire
San Marcos Fire
San Miguel Fire Protection District
San Onofre Fire
City of Vista Public Works
Vista Fire
The Urban Search and Rescue system was developed in 1990 by the Federal Emergency Management Agency (FEMA) in response to several disasters which occurred in the 1980s. The Loma Prieta earthquake, in particular, brought a significant focus on the federal, state and local governments' abilities to respond to such disasters.
The San Diego County US&R team is sponsored by the California Governor's Office of Emergency Services (OES) and the Federal Emergency Management Agency (FEMA).