Services & Programs Frequently Asked Questions
We recently had an inspection by the engine company. They told us we could not have key-locking deadbolts in our school. Why not?
A school, day-care, hospital or multi-unit residential building or residential care facility is not allowed to have key-locking hardware on the exit doors. However, key-locking hardware may be used on the main exit of a public assembly (a building where as many as 50 people gather to dine, dance, listen to a lecture, etc.) or the main exit of any church as long as a sign is placed on or adjacent to the door which states: THIS DOOR MUST REMAIN UNLOCKED DURING BUSINESS HOURS.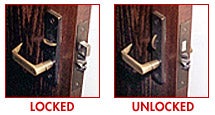 A deadbolt may be used when it is INTERLOCKED to the door handle so that it retracts at the same time the door handle is operated to open the door. See the examples on the right of the hardware in the locked position. Only one turn of the door handle is required to open the door.
My building does not have an emergency plan. Should it?
An

Emergency Plan and Information policy explains the requirements found in Title 19 for emergency planning. Please see the policy for the specific requirements based on the type of occupancy.
In addition to the Title 19 requirements, the California Fire Code has requirements for R1 buildings (multiple-unit residential). Apartments which have on-site management must have an emergency plan, staff training and fire drills for staff only on a quarterly basis
Emergency plans shall include:
the procedure for reporting emergencies and notifying, relocating and evacuating occupants;
staff member duties during emergencies;
floor plans identifying the locations of portable fire extinguishers, other manual fire-extinguishing equipment, manual fire alarm pull stations and fire alarm control panels;
floor plans identifying the primary and secondary routes of evacuation for each room or portion of the occupancy;
floor plans indicting the locations of interior areas of refuge; and
site maps identifying the designated exterior assembly area for each evacuation route.
Apartment buildings, with or without onsite management, must provide an emergency guide to tenants. The guide must describe the location, function and use of all fire protection equipment and appliances accessible to tenants, including fire alarm systems, single-station smoke detectors and portable fire extinguishers. The guide shall also include an evacuation plan for each dwelling unit.
I am going to open up a day-care. Will the fire department come out and do my fire inspection?
If you are going to open up a day-care in your home, first contact Community Care Licensing, Department of Social Services. If you are what is called a "large family day-care," Licensing will send a "Fire Safety Inspection Request" to our department. We will then contact you.
To prepare for this inspection, you can use the

Large Family Day-Care check-off list which can be downloaded from here.
Who is responsible for the installation of the smoke detector in my home?
You are responsible if you own your own home. Otherwise, the landlord is responsible for the purchase and installation.
When can you service my extinguishers?
The department does not service fire extinguishers. You will need to consult the Yellow Pages to find a company which services fire extinguishers.
Any company which provides this service must have a license from the State Fire Marshal to perform this type of work.
I don't know if my gas heating appliance is working properly. Will you check it for me?
No, call SDG&E or a service person.
I want to know the occupant load of my business.
If you call us for an occupant load, and we do not have a record of it, you will need to contact the Development Services Department Records Section at (619) 446-5180. The Records Section may have plans on file for your building. If not, you will need to consult with Development Services staff to see what they will require in order to do an occupancy load analysis, (619) 446-5460.
I want to open a new business. What fire department requirements do we need to meet?
The fire code is a "maintenance" code for the building code. What this means to you is that your building must meet building code requirements for the kind of use or occupancy which you will have. For instance, if you want to locate a day-care in a retail shopping complex, you will need to make sure that the business meets day-care requirements. These requirements will be different from those for a store.
When the use or occupancy of the building changes, you will need to get a permit from Development Services. This process will include a review of fire department requirements.
We had a fire in our home yesterday. Our insurance company needs an incident report and a report about the fire investigation. How can I get it?
This information is available for a fee. The Request for

Fire Incident Report can be downloaded and mailed in to our office. See Record Searches/Incident Reports as well.
We are buying a commercial building and want to know if there are any outstanding violations on the property.
We can tell you if there are any outstanding (unresolved) violations, but not what they are.
A building's history becomes a matter of public record only when the violations are signed off.
This information may be obtained by using the

Request for Fire Information/Inspection Report . See Record Searches/Incident Reports as well.
Water Utilities is tearing up the street to replace the water mains. Although we have water for drinking and bathing, we have no water for our building's automatic sprinkler system. What do we do?
Under these circumstances, you need to do two things. First, the Fire Communications Center should be notified at (858) 974-9891 as well as Fire and Hazard Prevention Services at (619) 533-4400.
Second, institute a fire watch. A fire watch is a 24 hour watch performed by personnel whose sole duty is to patrol the building. Our policy on

Disrupted Service-Fire Protection Systems explains the requirements in detail.
What are the California Fire and Building Codes and where can they be purchased?
The California Fire Code and California Building Code are model codes that are adopted as amended by the state of California. These codes govern schools, public assemblies, multiple unit residential buildings, hospitals, nursing homes and any state-licensed or state-owned facility.
The California codes are available through the International Conference of Building Officials at (800) 284-4406.