Emergency Exit Plan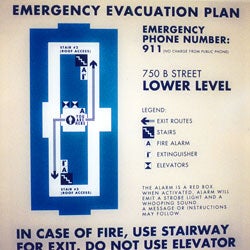 Every high rise is required by law to have an emergency plan and to perform an actual evacuation drill yearly. A viable emergency plan is a critical component of fire safety.
People who enter a high rise for the first time should pause to look at the floor plan posted in the elevator lobby which indicates the location of the exit stairwells and plan to use these as their escape route in the event or a fire.
People who work in a high rise building should be familiar with their emergency plan, be ready to follow the direction of those in charge and know where the stairwells are located. The stairwells are the required exit for every floor. There will always be at least two stairwells per floor.
Stairwells are designed to be protected from both the spread of smoke and fire. As long as the doors into the stairwells are not artificially restrained from closing when an alarm is activated, the stairwell can safely be used to evacuate the building.
Previous: Elevator Controls  |  Next: Emergency Power