Mission Bay Beaches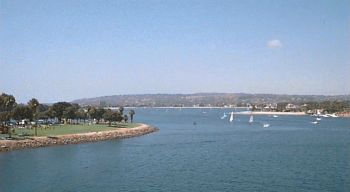 Jump to:
Mission Bay Park is the largest aquatic park of its kind in the country. It consists of over 4,600 acres in roughly equal parts land and water. Mission Bay boasts 27 miles of shoreline, 19 of which are sandy beaches with eight locations designated as official swimming areas.
Mission Bay was originally named False Bay by Juan Rodriguez Cabrillo, who came upon it in 1542. In those days, it was a vast tidal marsh that could confuse mariners into believing it was the larger bay just to the south, San Diego Bay. In 1944, civic leaders began a series of steps to dredge the marsh and create an aquatic recreation facility.
Today, you will find that Mission Bay is used by motor and sail boaters, rowers, waterskiers, picnickers, joggers and swimmers.
It is also home to many species of birds, fish, and other animals and has a nature reserve at its northern end near Crown Point.
Lifeguard Protection
Lifeguard staffing on Mission Bay beaches is primarily seasonal. It usually begins with school spring break and continues through spring on weekends. Lifeguards staff most beaches daily during summer but are cut back to weekends after summer and through October. Between November and spring break there are no lifeguards on duty in Mission Bay.
The Mission Bay beaches where staffing is most consistently provided are:
Bonita Cove
1000 West Mission Bay Drive at Mariners Way (signalized intersection)
Leisure Lagoon
1900 East Mission Bay Drive
De Anza Cove
3000 East Mission Bay Drive
Additional Mission Bay beaches are guarded daily during summer:
Sail Bay
4000 Fanuel Street
Crown Point
3700 Crown Point Drive
Ventura Cove
1000 West Mission Bay Drive at Gleason Road (signalized intersection)
Tecolote Shores
1600 East Mission Bay Drive
Enchanted Cove
Located on Fiesta Island 1/3 mile north of the entrance to the island
Drop Off
There are no significant currents in Mission Bay nor is there any surf. However, there is a hazard posed by the drop-off of some beaches. It can be a particular problem for small children.
The steep slope of some beaches is such that a child who is waist deep, for example, may take one step and be fully submerged in water. For this reason, parents are strongly urged to watch children closely and to allow them to swim only in areas supervised by a lifeguard.
Non-swimmers and those who are weak swimmers are strongly discouraged from using floating objects that might take them into water that would be over their head. They could slip off and sink and drown.
More information on water safety can be found on the safety tips page.
Restrooms and Showers
Restrooms with showers are located at all of the above listed swimming beaches on Mission Bay, except at Enchanted Cove. At some beaches there are two restroom buildings available.
Disabled Accessibility
There are very few stairs in Mission Bay Park. Instead, the park is composed primarily of abundant grassy areas with extensive cement walkways. Most notably is the playground at Tecolote Shores which was designed for use by physically challenged children. It is also very popular with all children. Tecolote Shores is located at approximately 1500 East Mission Bay Drive, very near the swimming area.
Beach Fires
Fire rings are available at many Mission Bay beaches and available on a first-come, first-served basis. Fires are permitted only between 5 a.m. and 12 midnight.
Only wood, charcoal, or paper products may be used as fuel. The burning of rubbish is prohibited. Fuel for the fire may not exceed a height of more than 12 inches above the upper edge of the fire ring.
A fire must be completely extinguished before leaving the beach. Open beach fires outside containers are prohibited at all San Diego beaches.
Regulations
Standard San Diego beach regulations apply, with the following modifications:
The consumption of alcohol at this beach and park area is prohibited at all times. This includes the boardwalk, on or against the seawall, or parking lots. For more information, please see the City Attorney's Fact Sheet
Overnight camping is prohibited and it is unlawful to park a vehicle in Mission Bay Park between 2 and 4 a.m. daily.
Glass containers of any kind are not allowed in the park.
Dogs are allowed on Fiesta Island off leash at any time. In the summer, access to Fiesta Island after 10 p.m. is limited to pedestrians because the gate at the entrance to Fiesta Island is closed overnight. Dogs are allowed in the park on leash anywhere in Mission Bay Park before 9 a.m. and after 6 p.m. Dogs are prohibited from being in the park between the hours of 9 a.m. and 6 p.m. City Park Rangers and park users ask that dog owners pick up after their dogs, and "leave only paw prints behind."
Directions
Mission Bay spans more than 4,600 acres. It is bordered by East Mission Bay Drive to the east (which parallels Interstate 5), Sea World Drive to the south (which intersects with Interstate 5), and Mission Boulevard to the west. To the north, Grand Avenue is the closest major street, but it is not directly adjacent to Mission Bay.
To reach Mission Bay from the north or south, take Interstate 5 to the exit for East Mission Bay Drive, Grand Avenue, Clairemont Drive or Sea World Drive.
Parking
Mission Bay has extensive free parking lots, particularly adjacent to most of the swimming beaches. Exceptions are Enchanted Cove and Sail Bay, where parking lots are not available, but parking is available nearby. All parking lots fill on popular days, particularly summer weekends. Overnight camping is prohibited and it is unlawful to park a vehicle in Mission Bay Park between 2 and 4 a.m. daily
Large Groups
Any gathering of over 50 people requires a permit from the Park and Recreation Department. A permit is also required for a wedding, water event, athletic event, voice and/or music amplification, or use of special setup equipment (such as an inflatable party jump, dunk tank, canopy, etc.)
For permit information, call the Regional Parks Division at 619-235-1169.
For other questions or concerns, call 619-221-8899 or email [email protected]