Fiesta Island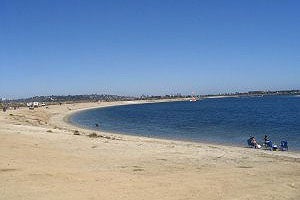 Fiesta Island, a large peninsular park located within Mission Bay, is a popular location for charity walks and runs, bicycle races, time trials and other special events. It is also the home of the annual Over-the-Line tournament.
The Fiesta Island Youth Camp and the Aquatic Center are on the island. There are bonfire rings around the shore of the island and dogs are allowed off leash.
There is a 5 m.p.h. zone on the east side of the island that is popular for recreational water sports. There is also a permitted water ski area in Hidden Cove and permits for water skiing only are available from the Lifeguards at their headquarters, 2581 Quivera Court.
Note:
Picnics are permitted.
Capacity: 500
Available Hours: 6 a.m. to 10 p.m.
Food / Beverages:Food is permitted but no glass containers. Alcohol is not permitted
Restrooms: There are no restrooms available on the island. Permittee must provide appropriate number of portable toilets for venue.
Fee: Contact the Permit Center at (619) 235-1169 for fee information.
Directions & Parking
From Interstate 5, take the Sea World Drive exit and head southwest, then make a right onto East Mission Bay Drive, then turn left to Fiesta Island. There is free parking throughout the island.
Fiesta Island General Development Plan
The Park & Recreation Department is in the process of preparing a General Development Plan for Fiesta Island. This is a refinement of the Master Plan concept for future park development at Fiesta Island. For more information, please email a request to [email protected]