Midway-Pacific Highway Community Plan
Adopted September 17, 2018.

For a hard copy, contact City Clerk at 619-533-4000.

Includes agendas and minutes
About Midway-Pacific Highway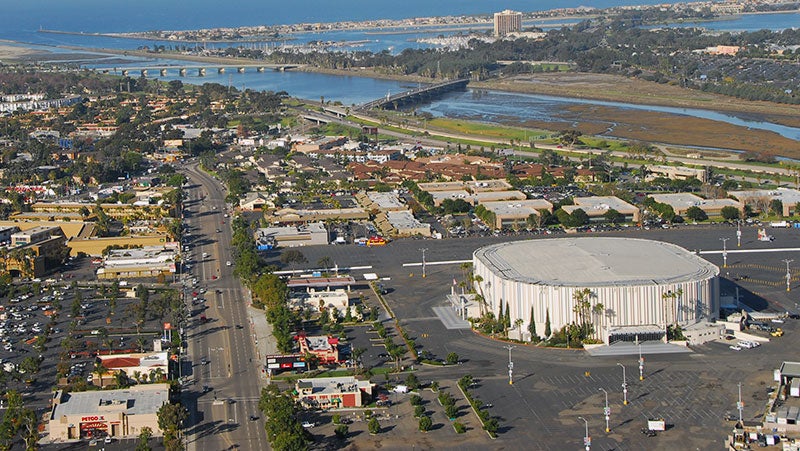 The Midway-Pacific Highway Community (formerly known as Midway/Pacific Highway Corridor) is an urbanized community situated north of Downtown between Old Town and Point Loma. Midway-Pacific Highway encompasses approximately 800 acres of mostly flat land, and is comprised of main areas: the central Midway area, the Pacific Highway corridor and the U.S. Marine Corps Recruit Depot.
The Midway area has a commercial core containing numerous shopping centers, institutional facilities, multifamily residential developments, visitor-oriented uses, older industrial areas and U.S. military properties. It is also the location of the Pechanga Arena, formerly known as the San Diego Sports Arena. The area is characterized by wide streets, flat topography, and a varied mixture of commercial and industrial uses, multifamily residential developments and airport-related commercial uses.
The U.S. Marine Corps Recruit Depot, located in the southwestern portion of the community adjacent to Barnett Avenue, was developed in the early 1920s after significant dredging and filling along the shores of San Diego Bay. By the early 1900s, central Midway - Pacific Highway was known as Dutch Flats, and in the 1920s the Marine Advanced Expeditionary Base (Marine Corps Recruit Depot) was built along Barnett Avenue, which was then the main thoroughfare from the New Town area to the Point Loma community. Later, during WWII, areas along Pacific Highway were used for numerous wartime factories, and in the 1940s the Midway area became the location of approximately 4,000 temporary wartime housing units in the Frontier Housing development.
In the post-war period, some industrial uses remained in the community, and land that was no longer needed for wartime uses was developed over time with auto-oriented commercial uses and institutional uses. Read more in the Historic Context Statement for the Midway – Pacific Highway Community Plan Area.
Midway-Pacific Highway is in Council District 2.