Community Profiles City Heights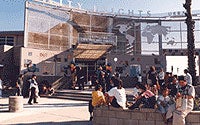 City Heights is centrally located in the San Diego metropolitan area, south of Mission Valley, north of the Martin Luther King Freeway (state Route 94), between Interstates 15 and 805 on the west and 54th Street on the east. Development in City Heights is a mixture of single-family and multi-family residential with commercial and other non-residential development concentrated along the major arterials, including El Cajon Boulevard, University Avenue, Fairmount Avenue, and Euclid Avenue. There are also pockets of neighborhood commercial areas throughout the community. A small portion of industrial development is located on the southern edge of the community.
Within City Heights there are sixteen distinguishable neighborhoods, each with its own identity. Neighborhoods that comprise City Heights are: Corridor, Teralta West, Teralta East, Colina Park, Cherokee Point, Castle, Azalea Park, Hollywood Park, Fairmount Park, Bayridge, Fairmount Village, Swan Canyon, Islenair, Ridgeview, Chollas Creek and Fox Canyon. Neighborhood associations in each neighborhood are the focal points for local control of local affairs and are the sources of recommendations to the City Council.
Complete Boulevard Planning Study
The Complete Boulevard Planning Study worked with the City Heights and Talmadge communities to propose multi-modal mobility infrastructure improvements within the El Cajon Boulevard corridor between Highland Avenue and 50th Street, and produced a planning study that includes preliminary engineering drawings for the highest priority improvements. Please visit the project's web page for more information.
City Heights Urban Greening Plan
The City Heights Urban Greening Plan makes recommendations to improve and protect functional, aesthetic and environmental sustainability of the public spaces and resources found in the City Heights Community Planning Area. These public spaces include canyons, parks, road right of ways, and other publicly owned or dedicated lands. The project utilizes these spaces to physically and visually connect the major destinations found within the community and encourage efficient development patterns with an emphasis on improving pedestrian and bike mobility. Enhancements will include landscape treatments, walkway improvements, bike facility improvements, signage, street furnishings, lighting, traffic calming strategies, naturalized storm water runoff areas, and trail facilities. Additional benefits can include options to promote healthy living, decrease urban heat buildup, improved air quality, increase active transportation, restore natural processes and long term community involvement and investment.
The City Heights Urban Greening Plan and related documents are available below:
Additional Plan Documents

Azalea Park-Hollywood Park Revitalization Action Plan -DRAFT- (PDF)

Euclid Avenue Revitalization Action Plan
Chollas Creek Enhancement Program
The City of San Diego is undertaking the Chollas Creek Enhancement Program as a key element in revitalizing this culturally-rich portion of the City. The goal is to create an open space system that lends identity to this area and provides a safe recreational and natural resource for the region.
Construction on two Pilot Projects for the Chollas Creek Enhancement Program has begun. Segment 2A is at the intersection of Market Street and Euclid Avenue and Segment 8 is adjacent to the intersection of South 38th and Alpha Streets.The scope of this project includes the removal of concrete channels along the creek, restoration of native vegetation and the creation of a linear park type setting with the inclusion of a trail system and an educational / interpretive element. This project will transform these two sections of the creek and the surrounding areas into positive open space features that the community can be proud of.