Community Profiles Clairemont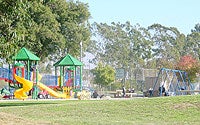 The Clairemont Mesa community, encompassing approximately 13.3 square miles, lies south of state Route 52, west of Interstate 805, north of the Linda Vista community, and east of Interstate 5.
Clairemont Mesa is one of the first post-World War II suburban developments in the City of San Diego, with many of its homes built in the 1950s and 1960s. The area is largely defined by its prominent topography. Developed areas of Clairemont Mesa sit primarily atop mesas punctuated by several major canyon systems, with San Clemente Canyon to the north and Tecolote Canyon weaving through the center of the community. Many of the neighborhoods in the western portion of the community enjoy views of Mission Bay and the Pacific Ocean.
Several significant commercial centers serve Clairemont Mesa and are located at the intersections of major transportation corridors, such as Clairemont Drive and Clairemont Mesa Boulevard, as well as Balboa Avenue and Genesee Avenue. Smaller pockets of commercial development are interspersed throughout the community and along Morena Boulevard.
Transit service currently consists of a number of local and express bus lines, however, the Metropolitan Transit Development Board (MTDB) is in the process of improving future service to the Mid-Coast corridor.
Balboa Avenue Revitalization Action Program
Morena Corridor Specific Plan Process
Public Review Draft Now Available
The City has evaluated and provided recommendations for the areas adjacent to the Mid-Coast trolley stations at Tecolote Road and Clairemont Drive within the Clairemont Mesa and Linda Vista community planning areas. The recommendations address the future form of development in light of the introduction of the Mid-Coast Light Rail Transit (LRT) Trolley extension. In addition to land use and urban design recommendations, mobility improvements throughout the area have been identified for bicyclists, pedestrians, vehicles, and transit users.
The Morena Corridor Specific Plan builds upon the technical analysis and recommendations prepared and extensive public input received from the study. The specific plan provides policies and recommendations that address land use, mobility, urban design, recreation, and conservation to enhance the corridor.

DRAFT MORENA CORRIDOR SPECIFIC PLAN
Questions regarding the Specific Plan can be sent via email to:
Michael Prinz, Senior Planner Planning Department
Clairemont Community Planning Group Ad Hoc Subcommittee
MORENA CORRIDOR SPECIFIC PLAN ONLINE FORUM
We encourage you to register for the Morena Corridor Specific Plan Online Forum. This interactive, online forum allows the community to provide feedback on topics that will inform the specific plan process. By registering, you will receive announcements and updates.
Previous Study Documents

Morena Blvd Station Area Planning Study
Appendices:
Contact Us
For questions or comments regarding the Morena Corridor Specific Plan, please contact:
Michael Prinz, Project Manager at [email protected] or at (619) 533-5931