Community Profiles Linda Vista
Community Area: Central Urbanized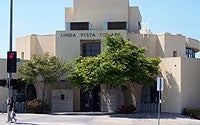 The Linda Vista Community comprises about 2,400 acres. The planning area is generally bounded on the south by Friars Road, on the west by Interstate 5, on the north by Tecolote Canyon and Mesa College Drive, and on the east by state Route 163.
Morena Corridor Specific Plan Process
Public Review Draft EIR and August 2018 Draft Specific Plan Draft Now Available
The City has evaluated and provided recommendations for the areas adjacent to the Mid-Coast trolley stations at Tecolote Road and Clairemont Drive within the Clairemont Mesa and Linda Vista community planning areas. The recommendations address the future form of development in light of the introduction of the Mid-Coast Light Rail Transit (LRT) Trolley extension. In addition to land use and urban design recommendations, mobility improvements throughout the area have been identified for bicyclists, pedestrians, vehicles, and transit users.
The Morena Corridor Specific Plan builds upon the technical analysis and recommendations prepared and extensive public input received from the study. The specific plan provides policies and recommendations that address land use, mobility, urban design, recreation, and conservation to enhance the corridor.
The August 2018 Draft Morena Corridor Specific Plan builds on the previous June 2017 draft. Refinements to draft policies and supplemental development regulations have been made. The draft Specific Plan can be viewed from the link below.

DRAFT AUGUST 2018 MORENA CORRIDOR SPECIFIC PLAN
The proposed zoning map can be viewed from the link below:

Proposed Zoning Map
Questions regarding the Specific Plan can be sent via email to:
Michael Prinz, Senior Planner Planning Department
Public Review Draft EIR
The Draft Program Environmental Impact Report (PEIR) for the Morena Corridor Specific Plan has been released for public review and the Planning Department is inviting your comments regarding the adequacy of the document. The Draft PEIR and associated technical appendices have been placed on the City of San Diego's Planning Department website under the heading "Draft CEQA Documents" and can be accessed using the following link:
https://www.sandiego.gov/planning/programs/ceqa
Your comments must be received by September 17, 2018 to be included in the final document considered by the decision-making authorities. Please send your written comments to the following address:
Rebecca Malone, Environmental Planner, City of San Diego Planning Department, 9485 Aero Drive, MS 413, San Diego, CA 92123
or
e-mail your comments to [email protected] with the Project Name and Number in the subject line.
PROJECT NAME: Morena Corridor Specific Plan
PROJECT No.: 582608 / SCH No. 2016101021
Please note that only written comments, received either via US Mail, hand-delivered, or via email, will be considered official comments in the Final PEIR.
Previous Draft

DRAFT JULY 2017 MORENA CORRIDOR SPECIFIC PLAN
Meeting Presentations

Meeting #1 -Introduction - PowerPoint Presentation

Meeting #2 -Mobility - PowerPoint Presentation

Meeting #3 -Land Use - PowerPoint Presentation

Meeting #4 -Mobility - PowerPoint Presentation

Meeting #5 –Land Use - PowerPoint Presentation

Meeting #6 -Urban Design -PowerPoint Presentation
Visual Simulation of the Proposed Roadway Network within the Morena Boulevard Station Area
Previous Study Documents

Morena Blvd Station Area Planning Study 
Appendices:
Contact Us
For questions or comments regarding the Morena Corridor Specific Plan, please contact:
Michael Prinz, Project Manager, at [email protected] or at (619) 533-5931