Community Profiles Pacific Beach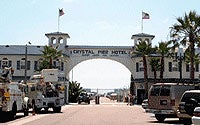 The Pacific Beach community planning area is located along the western edge of the mid-coastal region of the City of San Diego. It is bounded on the north by La Jolla, on the east by Interstate 5 and Clairemont Mesa, on the south by Mission Bay Park and Mission Beach, and on the west by the Pacific Ocean.
The primarily residential (76%) community of Pacific Beach is physically identified by its proximity to water, both the coastal bluffs and beaches of the Pacific Ocean and the beaches of Mission Bay to the south. The coastal plain that encompasses the majority of Pacific Beach rises to steep hillsides to the north, bordering La Jolla.
Pacific Beach was included within the original Pueblo Lands, which divided the area into a large grid pattern in the mid-1800s. Although residential construction began at that time, the majority of the community was built out after 1930. Approximately 97 percent of the community's land area has been developed. Consequently, the development at this time is primarily infill.
In 1970, a Mission (Beach)-Pacific Beach Community Plan was adopted. In 1974, the City Council adopted the Mission Beach Precise Plan, amending the 1970 plan to remove the Mission Beach planning area from it, thus creating the first Pacific Beach Community Plan. The advent of the Coastal Act was one of the many reasons to update the plan in 1983, creating the Pacific Beach Community Plan and Local Coastal Program Land Use Plan. That plan was amended in 1990 to reduce the residential land use designation density in most of the community's multiple dwelling unit areas. A subsequent plan update in 1995 that dealt with a range of issues resulted in the plan currently in use.
Balboa Avenue Station Area Specific Plan Process
Public Review Draft Now Available
The City has evaluated and provided recommendations for the areas adjacent to the Mid-Coast trolley station at Balboa within the Pacific Beach and Clairemont Mesa a community planning areas. The recommendations address the future form of development in light of the introduction of the Mid-Coast Light Rail Transit (LRT) Trolley extension. In addition to land use and urban design recommendations, mobility improvements throughout the area have been identified for bicyclists, pedestrians, vehicles, and transit users.
The Balboa Avenue Station Area Specific Plan builds upon the technical analysis and recommendations prepared and public input received throughout the process. The specific plan provides policies and recommendations that address land use, mobility, urban design, recreation, and conservation to enhance the Specific Plan Area.

Balboa Avenue Station Area Specific Plan Draft

Draft Balboa Avenue Station Area Specific Plan Rezone Map B4330

Draft Pacific Beach Community Plan Amendment – Balboa Avenue Station Area Specific Plan
Please submit comments on the Draft Specific Plan by Friday, January 26th, 2018.
Questions regarding the Specific Plan can be sent via email to:
         Michael Prinz, Senior Planner
         Planning Department