Community Profiles San Pasqual Valley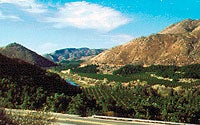 The San Pasqual Valley plan area includes approximately 14,000 acres in area and is largely owned by the City of San Diego Water Utilities Department. Agricultural land uses dominate the valley's landscape and include various orchard, vine, field crops, dairy operations, and pasture land. The valley is located in the northern most portion of the City of San Diego. The valley is bounded on the north by the city of Escondido, on the east and west by unincorporated land within San Diego County, and on the south by the city of Poway and the Rancho Bernardo community.
In the late 1950s, the Water Utilities Department acquired the San Pasqual Valley for water-supply purposes. In the early 1960s, land within the San Pasqual Valley was annexed to the City of San Diego. The first San Pasqual Valley Plan was adopted in May of 1964. That Plan designated the valley as an agricultural and open space preserve. The San Pasqual Valley Plan Area extends from the Hodges Reservoir eastward to Clevenger Canyon located at the eastern reach of the valley. The Hodges Reservoir landscape includes the broad, open waters of the Hodges Reservoir and the contrasting steep, rocky slopes of the surrounding mountainous terrain to the north and south.