Why Pilot Villages Are Important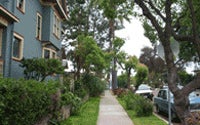 The City of Villages strategy
will create a workable environment.
The Pilot Village program will serve as a catalyst for implementing the City of Villages strategy adopted by the City Council in October 2002. It is designed to build working examples that demonstrate how villages can benefit communities citywide.
Villages address growth and improve existing communities by combining housing, commercial, employment centers, schools and civic uses together in areas where a high level of activity already exists. They include public/civic spaces where everyone feels welcome. For the communities in which they are located, villages create a lively, walkable and unique atmosphere. They build upon existing neighborhoods while retaining their individual character.
Locating new village development in older areas can help with revitalization. Newer town or community centers can also benefit by drawing people to the unique gathering points they create. Connecting villages with an improved transit system, such as SANDAG's proposed Transit First initiative , will further help villages reach their full potential. The City will use the pilot villages selected as a learning experience on how to implement the City of Villages strategy throughout San Diego.
More Information