Infrastructure Project Prioritization – Adopted Council Policy Updates

What is the Capital Improvements Program?
The Capital Improvements Program (CIP) is the long-range plan for all individual infrastructure projects and funding sources.  CIP projects are unique construction projects that deliver improvements or additions such as parks, libraries, streets, sidewalks and fire stations in our neighborhoods. Learn more about the CIP.
What has been updated?
On Monday, Dec. 12, 2022, the City Council adopted updates to two of its council policies to align infrastructure prioritization with the City's goals for the equitable and efficient delivery of infrastructure and to improve outreach and engagement with communities to gather information about infrastructure needs in the City.
Specifically, Council Policy 800-14 sets the guidelines for developing the City's CIP.  The adopted updates to the Council Policy establish an infrastructure prioritization process that will be used as a factor to efficiently and equitably deliver infrastructure across the City.
Council Policy 000-32 sets the guidelines for the City to engage with San Diegans to collect input about neighborhood infrastructure needs. Updates to this policy set forth a framework for neighborhood input on infrastructure needs and priorities for consideration in the City's CIP.  These updates will support delivering infrastructure to San Diegans where it is wanted and most needed based on today's community needs and the expected service level.
The Infrastructure Prioritization and Infrastructure Priority Engagement policies are important value statements – translating the outcomes and services residents expect into a pipeline of specific infrastructure projects.  The reforms are primarily focused on aligning the City's infrastructure priorities with the City's equity and sustainability goals as well as improved community engagement and internal processes.  These updates will directly inform the infrastructure projects included in the Fiscal Year 2024 budget.  The City will continue to adjust and improve upon these changes in future budget cycles.
Why Were These Changes Needed?
Recently adopted initiatives, including Parks for All of Us and Build Better SD, called for a need to change the way the City prioritizes infrastructure projects to ensure faster and more equitable delivery of needed community investments.  The desired outcome is to ensure that equity, public safety and quality of life, as well as effectiveness and efficiency, are achieved through each identified project in the City's infrastructure needs and investment. Together these City Council-adopted policies call for the equitable delivery of infrastructure by:
Prioritizing parks investments in park-deficient communities and communities of concern.

Prioritizing infrastructure investments generally in areas with the greatest needs and areas that serve the most people.

The policy updates will implement these changes to ensure that the City's infrastructure investments are delivered efficiently, equitably and in a manner that best serves the needs of San Diego's residents.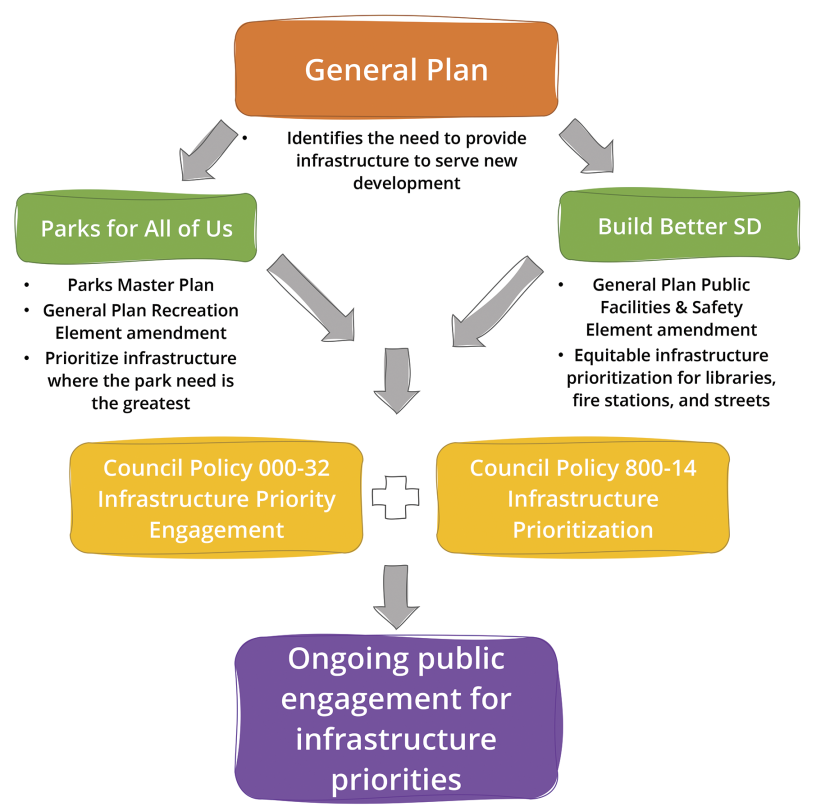 In addition to a commitment to equity and efficiency, the updated policies will also ensure that infrastructure investments meet the City's climate goals and ensure the City is prepared for a changing climate, balancing these needs with input received from the community on how these investments can best serve San Diego's residents.
How did the public provide input?
During the hearing process for these council policy updates, draft revised policies were shared with the public and comments were accepted. 
Additional public input on infrastructure prioritization was collected and analyzed as part of the public engagement process the City Planning Department completed for the recently adopted Build Better San Diego and Parks for All of Us initiatives.  During the process for these initiatives, updates to City policies related to infrastructure prioritization were identified as key implementing measures to achieve the goals of these planning initiatives. These updates are intended to serve as a direct implementation of Parks for All of Us and Build Better SD.
To gather additional public input on the updates to Council Policies 800-14 and 000-32, the Engineering and Capital Projects Department also hosted a series of seven virtual and in-person community meetings in spring 2022. The meetings were focused on the City's Capital Improvements Program, community infrastructure priorities, how to focus infrastructure investment where the need is the greatest and how to provide more equitable access to public spaces. Meeting materials and a survey were provided in both English and Spanish.
Learn About Where Community Input Comes From
What happens now that the policies are approved? 
The City will prioritize infrastructure projects in accordance with the newly adopted policies, which will be seen in future CIP budgets. Regular monitoring will be critical to ensuring that infrastructure projects are prioritized in a manner consistent with these new policies. A summary of projects and project budgets included in the CIP Budget by community planning area will be provided to the City Council at least once every two years. If additional refinements to these policies are needed, these policies can be updated by the City Council. 
Strategic Plan Priority Areas of Focus
This initiative focuses on the following priority areas of the Strategic Plan:
Protect & Enrich Every Neighborhood
Ensures all community members can provide their input in regard to infrastructure needs. 
---
Champion Sustainability
Facilitates infrastructure that sustains our natural environment and public health.
---
Advance Mobility & Infrastructure
Provides guidelines to prioritize infrastructure where it is most needed, for the enjoyment of all community members.