Mission Valley Branch Library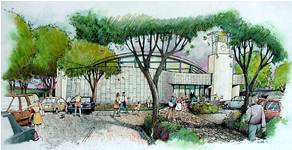 | | |
| --- | --- |
| Location: | Fenton Marketplace on Friars Road |
| Architect: | Wheeler Wimer Blackman & Associates |
| Size: | 20,000 square feet |
| Construction: | Completed July 2002 (opened July 20, 2002) |
Shortly after being retained to design the Mission Valley Branch Library, Wheeler Wimer Blackman & Associates were challenged by the local community to design the library to respect the past and represent the present with an eye toward the future. The asymmetry of the design reflects the dignity of a public building and pays homage to the historical past of Mission Valley.
The shallow vaulted metal roof is reminiscent of the dairy farms and cow barns that dotted the valley floor many years ago. The intricate use of glass and natural light and the velvety soft looking texture of the exterior wall surfaces represents the present. The powerful curvilinear stainless steel walls at the entry and surrounding the reading carousel emphasize the library's focus on the future.
The floor plan has a gentle curve to it, intending to mimic the river's edge. The grand tree columns with their branches arching out in mechanical formations support large steel plates cut into the shape of a sycamore tree canopy. The library's mezzanine is edged with a brass and steel protective railing with etchings of tall valley grasses. The mezzanine itself will provide the community with the opportunity to venture outside to read a book, gaze at the panoramic views of the valley or savor the cool ocean breezes.
The library's program consists of a large community room, two seminar rooms, a computer lab, reading areas for all ages and a children's library. One of the more enchanting places will be the east garden opposite the children's library. This garden "oasis" comes complete with a shallow linear reflecting pool meandering its way toward the San Diego River.
The library's clock tower has a glass top which will glow with a different color every 15 minutes. The tower will be seen from the 805 overpass, Interstate 8, and will become a recognizable landmark to trolley commuters.
The library's useable site area is slightly under two acres. The overall square footage of the building is 20,000 square feet. The site has 85 parking spaces.