Central Library Concert Series
The Central Library @ Joan Λ Irwin Jacobs Common is pleased to announce the schedule and musicians for the 2019 Winter/Spring Concert Series. These free, live performances began in the mid-1950s and over the decades has expanded to celebrate local chamber ensembles as well as guest ensembles from throughout California, the United States, and the world. Highlights of the Winter/Spring Series include performances by guest artists from Los Angeles (Duo Gliss) and Irvine (Trio Céleste), a program by Oxford University's Quartet-in-Residence (Villiers Quartet), and will conclude with a vocal extravaganza!
2019 Winter/Spring Concert Series
Sundays at 2:30 p.m. in the Neil Morgan Auditorium
(Programs and artists are subject to change.)
---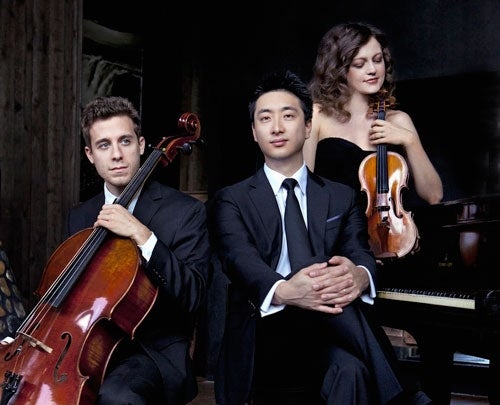 Photo Credit: Lisa-Marie Mazzucco
Trio Céleste
Sunday, January 27, 2019
Iryna Krechkovsky – violin; Ross Gasworth – cello; Kevin Kwan Loucks – piano
Trio Céleste has electrified audiences across the world presenting sold-out concerts in venues including New York's Carnegie Hall, the Chicago Cultural Center, Los Angeles County Museum of Art, and Seoul Arts Center in South Korea. The ensemble returns to San Diego to present a virtuosic program of Pierre Jalbert's Piano Trio No. 1 (1998) and Rachmaninoff's passionate Trio élégiaque No. 1 in G minor.
---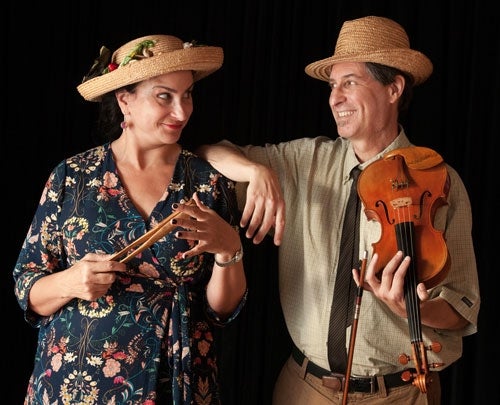 Photo Credit: Brian Blue
Yale Strom and Hot Pstromi: Jews & Latin Rhythms
Sunday, February 3, 2019
Featuring Irving Flores – piano; Gene Perry - Afro-Cuban percussion; Tripp Sprague - tenor/flute; Tim McNalley – contrabass; Elizabeth Schwartz – vocals; Yale Strom - violin
Hot Pstromi will perform Yiddish/English songs that used Yiddish English lyrics in a humorous way mixed with a heavy dose of Afro-Cuban rhythms. In the late 1950s through mid-1960s many Jewish musicians in the East Coast who had played klezmer music in the past followed their Jewish patrons as they traveled to Miami Beach during the winter months. They loved the Latin rhythms and realized Jewish and non-Jewish patrons at the clubs enjoyed the novelty songs and their silly lyrics. Irving Fields (piano) helped to create this genre of Yiddish and Latin music genres with his classic record "Bagels and Bongos" which was released in 1959. Strom will also take klezmer instrumental tunes and put an Afro-Cuban rhythmic spin on them.
---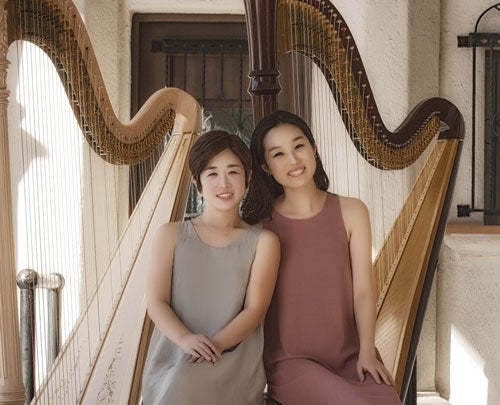 Duo Gliss (Harp duo)
Sunday, February 17, 2019
Hee Jin Yoon and Koni Choi, harps
Los Angeles-based ensemble Duo Gliss will perform works by Debussy, Bach, Bernard Andres, and more and will premiere their new transcriptions.
---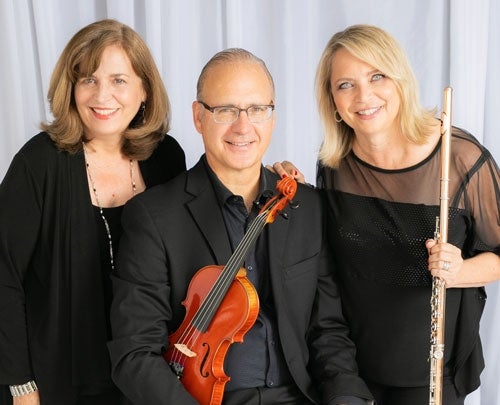 Camarada Trio: Music, SHE Wrote
Sunday, March 10, 2019
Beth Ross Buckley, flute; David Buckley, violin; Dana Burnett, piano
Celebrate Women's History Month and explore the feminine side of music! Camarada explores music of beauty, eloquence and history from early women composers Elisabeth Jacquet de la Guerre and Hildegard von Bingen, to upcoming composer extraordinaire, Chen Yi. This program will also feature vivacious and stunning music by modern day female composer Yuko Uebayashi– elegantly balanced by the lush Gaubert Trio & Ellen Zwilich's lyrical work. Ms. Zwilich has been called "one of America's most genuinely popular living composers" (Grove Music).
---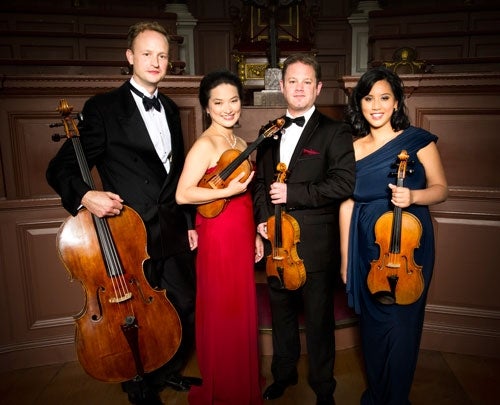 Villiers Quartet
Sunday, March 17, 2019
James Dickenson, violin; Tamaki Higashi, violin; Carmen Flores, viola; Nick Stringfellow, cello
Villiers Quartet, Oxford University's Quartet-in Residence, is named after Villiers Street in London and encompasses the grand and iconic spirit of the extraordinary music tradition in Britain. They will perform works by William Alwyn, Elizabeth Kelly, and Frederick Delius.
---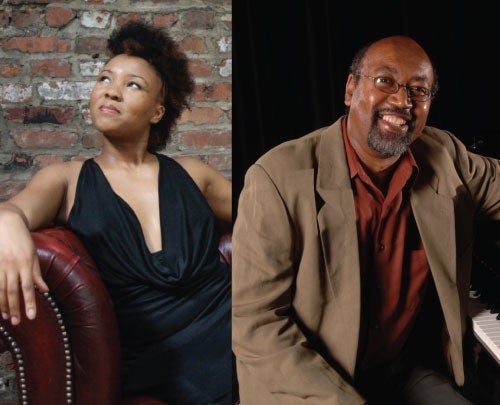 Malesha Taylor + Richard Thompson: "I, Too, Sing America"
Sunday, April 14, 2019
Malesha Taylor, soprano, and Richard Thompson, piano
In celebration of National Poetry Month, soprano Malesha Jessie Taylor and pianist/composer Richard Thompson will perform Thompson's original compositions on two song cycles which feature settings of the poetry of Langston Hughes and Paul Laurence Dunbar.
---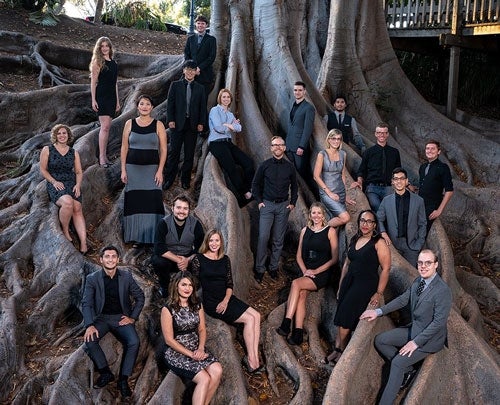 Photo Credit: Gary Payne Photo
SACRA/PROFANA
Sunday, April 28, 2019
Since 2009, SACRA/PROFANA has worked tirelessly to bring contemporary and innovative choral repertoire of exceptional artistic quality to Southern California. The San Diego-based choir is now nearing the end of its 10th Anniversary Season and will present choral works from a variety of genres, time periods, and composers. Join us for a concert for all ages and musical tastes.
---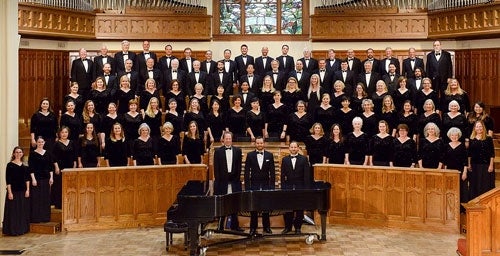 San Diego Master Chorale - Concert Series Season finale!
Sunday, May 26, 2019
Directed by Dr. John K. Russell
Reconciliation
Featuring Jeffrey Van's A Procession Winding Around Me and Jocelyn Hagen's Amass
The San Diego Master Chorale will perform Jeffrey Van's exquisite setting of Walt Whitman texts for chorus and guitar as well as selected movements from Jocelyn Hagen's Amass
---
The Concert Series is made possible by the Friends of the Central Library, the San Diego Public Library matching fund program, the San Diego Library Foundation, and public and private donations. All programs are FREE and open to the public. Most Concert Series programs are approximately one hour long with no intermission and, unless otherwise noted, are held at 2:30 p.m. in the Neil Morgan Auditorium at the Central Library, 330 Park Blvd., downtown in East Village, San Diego. For more information, call the Central Library's Art, Music and Recreation Section at 619-236-5800.
Where: Neil Morgan Auditorium, 330 Park Blvd. The Auditorium is across the courtyard from the Central Library entrance.
When: Sundays at 2:30 p.m. unless otherwise noted. Programs usually last one hour with no intermission.
Cost: Programs are free and open to the public.
Parking: Two hours of free parking with validation are available at the library, and additional parking is available at public spaces within walking distance of the library.
---