On View: Art and Culture Exhibitions
The Library's exhibition program allows free access to visual art and cultural exhibitions, while promoting San Diego artists and creative community groups.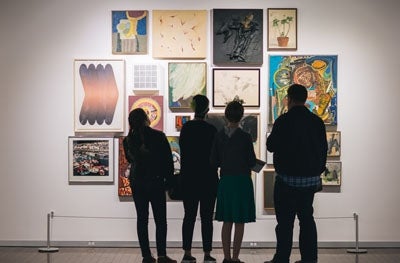 ---
Central Library Art Gallery
You are Here
Feb. 10 – May 6, 2018 | San Diego Central Library Gallery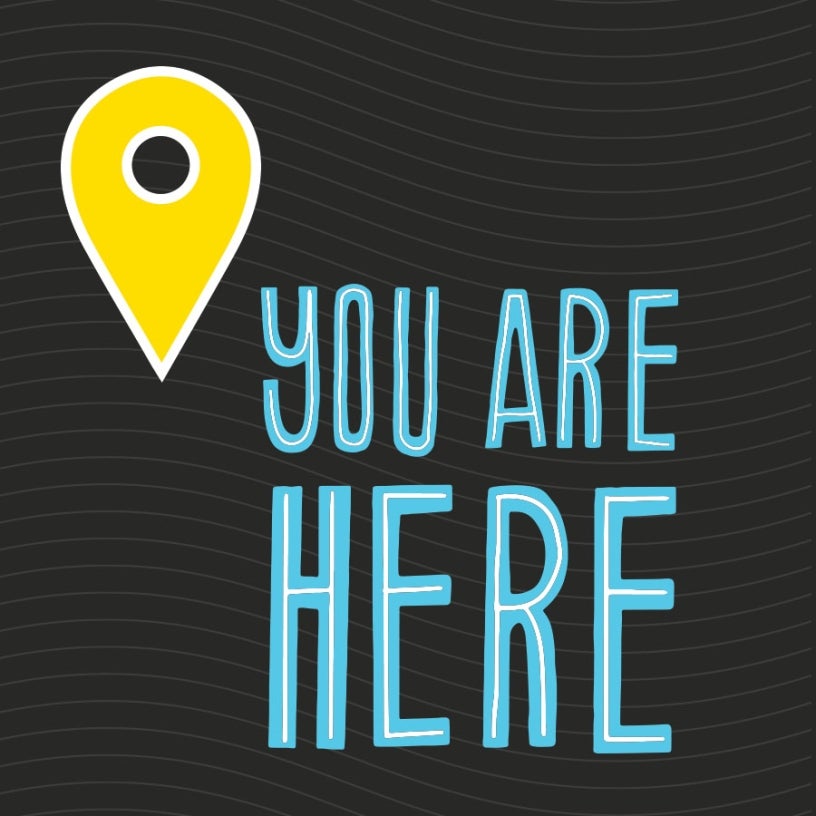 This exhibit celebrates the creative energy found within San Diego-area higher education art departments and shifts that energy off campus to the Central Public Library. Tweaking the tried-and-true model of an on-campus exhibition gives the general public easy and free access to the talents of local teaching artists and their emerging-artist students.
---
Community Exhibitions
With 35 branch libraries in communities throughout the city, the San Diego Public Library has many great spaces to showcase educational, cultural, intellectual, charitable and recreational exhibits, as well as works by community art groups and individuals.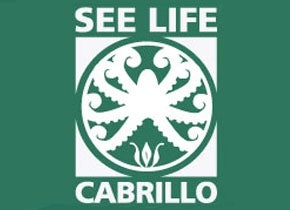 Nov.  6, 2017 - Jan. 19, 2018
Photos of ocean life, close-up and in color, on loan from the Cabrillo National Monument.
---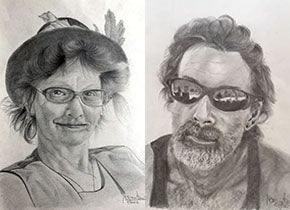 Credit: J. González
Jan. 3 – March 31, 2018
Portraits of San Diegans by José González show the real people behind the stigma of homelessness.
---
The Memory Project – Syrian Children
Feb. 13 - April 26, 2018
Based on photos, American students made these portraits and gave them to displaced children, creating new happy memories. Learn more
here
.
---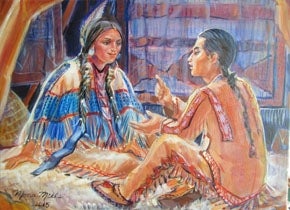 Credit: M. Mills
Elephant and the Indians
Jan. 12 – Feb. 28, 2018
Award-winning painter Mona Mills portrays the true story of a Chinese railroad worker who was captured by and lived with American Indians.  This story inspired the book by local author Murray K. Lee.  Art and author talk, Saturday Feb. 10 at 2 pm.
---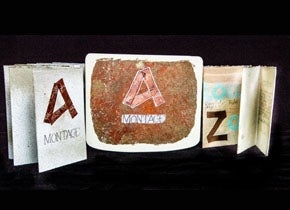 Credit: B. Brice
San Diego Fellow Calligraphers
Sept. 9, 2017 - Feb. 28, 2018
Celebrating SDFC's 40th anniversary: an exhibition of original multimedia works that reflect a wide variety of styles, colors and forms, and incorporate an array of calligraphic styles.
---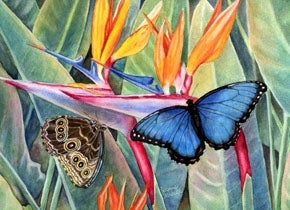 Credit: J. Michalik
Flutterings and Flowers
Jan. 5 – March 31, 2018
In her paintings, Joanne Michalik captures the startling variations of color seen on butterfly wings, combined with floral images.
---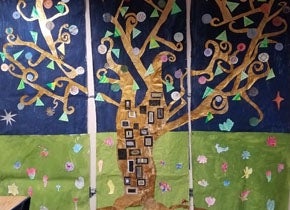 Credit: Innovations Academy
A Midsummer Night's Dream
Nov. 1 - Jan. 31, 2018
Inspired by Gustaf Klimt's "Tree of Life," students at Innovations Academy in Scripps Ranch created this backdrop for their production of "A Midsummer Night's Dream".
---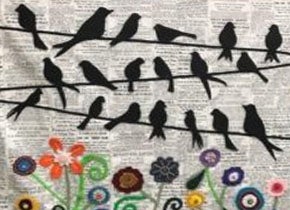 SewMates Quilters: Nature and Wildlife
Jan. 8 – Feb. 1, 2018
Handcrafted quilts depicting nature scenes such as parrots in a jungle, bears in a forest, and birds of a feather flocking together. This is the 10th anniversary of this quilting group, which seeks to expand members' skills and does philanthropic work.
---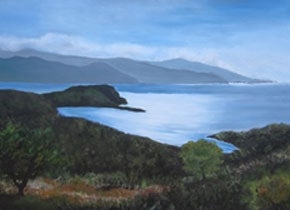 Credit: B. Reilly
International Scenes
Dec. 26, 2017 – Feb. 27, 2018
In his paintings, Brian J. Reilly combines two loves: travel and art. The paintings are done in oil with a combination of brush and pallet knife.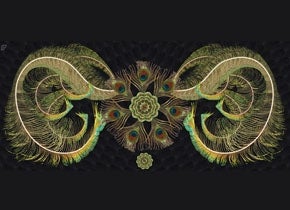 Credit: L.M. Grimes
March 1 - April 29, 2018
Lewis Mark Grimes turns the molted feathers of companion birds into unique works of art. Through his work, Grimes hopes to kindle a spirit of respect and encourage the conservation of bird species. Reception Sunday March 4, 1:30 to 3:30 pm.
---
The Memory Project – Syrian Children
Feb. 4 - April 27, 2018
Based on photos, American students made these portraits and gave them to displaced children, creating new, happy memories. Learn more
here
.
---
The Memory Project – Syrian Children
Feb. 4 - April 27, 2018
Based on photos, American students made these portraits and gave them to displaced children, creating new, happy memories. Learn more
here
.
---
Exhibition Opportunities
SDPL is pleased to have hosted exhibitions and displays by groups such as West Coast Drawing, San Diego Mesa College Museum Studies Program, the Museum of Photographic Arts' Education Department, the Pastel Society of San Diego, High Tech High, Veterans Art Project, San Diego Watercolor Society, the Art Glass Association of Southern California, Words Alive, and various individuals artists and craftsmen.
Exhibit Space is made available on equitable basis regardless of the beliefs or affiliations of individuals or groups requesting their use. The Library endeavors to present a broad spectrum of opinion and viewpoints. The Library does not accept responsibility for ensuring that all points of view are represented in any single exhibit.
To initiate use of Exhibit Space; Library staff must receive a completed online application from the party requesting the exhibit.
---
Frequently Asked Questions
How do you choose what to exhibit in the library?
All potential use of Exhibit Space shall be evaluated by criteria, which may include, but are not limited to:
Public Safety: The exhibit must not pose hazards or threats to public safety or public health and/or must not pose a potential liability for the City of San Diego in any other way.
Availability of Resources: The availability of Exhibit Space and necessary Library staff support. Preference will be given to exhibits that do not require an excessive outlay of City of San Diego resources.
Excellence: The level of exhibit quality and conceptual content.
Security: The nature of the proposed security measures for the exhibit.
Relationship to Exhibit Space: The scale and nature of the exhibit in connection with environmental, physical, and/or functional contexts, both existing and planned.
Content Considerations:  Exhibit content should be appropriate in material, form and content for the library environment.  In general, the Library does not accept exhibits of a purely commercial nature, unless they have a special educational, informational, or cultural value to the community. Materials advocating a particular vote on a candidate or ballot proposition may not be exhibited.
Associated Programming: Exhibitors are encouraged to participate in a lecture or demonstration during the show. Evaluation will consider willingness to prepare creative associated programming. Associated programming will be arranged in consultation with the Branch Manager.
Priority: Organizations and individuals based in San Diego or serving primarily San Diego residents, which have not used Exhibit Space within the past year, will be given priority.
How can I exhibit at the Central Library?
Programming for the gallery at Central Library is curated and we are not accepting unsolicited applications. There are limited opportunities to display in cases throughout the library, in the Teen Center, or in the Popular Library on the ground floor. Please contact us with a letter of interest to determine if these spaces are appropriate for your needs.
---
Photo Gallery
---
Contact Us