On View: Art and Culture Exhibitions
The Library's exhibition program allows free access to visual art and cultural exhibitions, while promoting San Diego artists and creative community groups.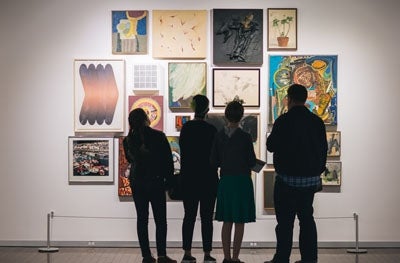 ---
Central Library Art Gallery
The Dream of the Nineties
San Diego Central Library Gallery
Sept. 23 – Dec. 31, 2017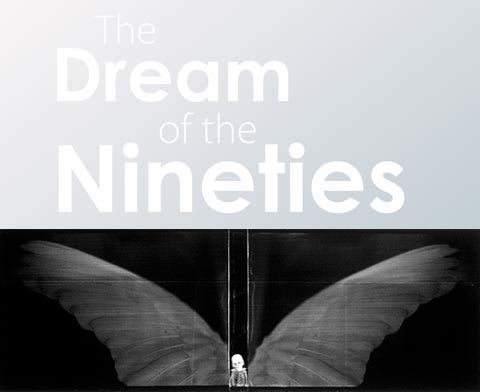 This exhibit features the work of nine San Diego photographers at the end of the 20th century, when these artists were keenly aware of the emergence of digital media.  Using a wide range of photographic materials and approaches to the medium, they explored the boundaries of expression at the end of an analog era – a time when hands-on processes and hours in the darkroom marked an artist's output.
At that period in the history of photography, "creative practice reached a fever pitch, which provided the foundation for countless creative tools in the digital realm," says Scott B. Davis, the exhibit's curator.
The exhibit exposes San Diego's vibrant photography community and presents the work of local artists Eric Blau, Walter Cotten, Steven DePinto, Annette Fournet, Suda House, Richard Lou, James Luna, Han Nguyen and Philipp Scholz Rittermann. It features a range of photographic processes – from darkroom-based work, to early digital capture and pioneering digital printing technologies.
---
Community Exhibitions
With 35 branch libraries in communities throughout the city, the San Diego Public Library has many great spaces to showcase educational, cultural, intellectual, charitable and recreational exhibits, as well as works by community art groups and individuals.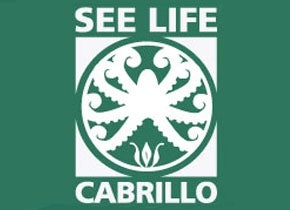 Nov.  6, 2017 - Jan. 19, 2018
Photos of ocean life, close-up and in color, on loan from the Cabrillo National Monument.
---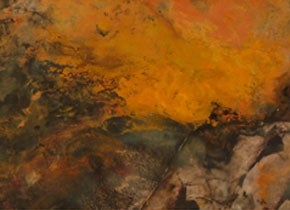 Credit: I. Schraufstatter
Nov. 1 – 30, 2017
Small-scale encaustic art and artist books by Ingrid Schraufstatter.
---
Central Library, Popular Library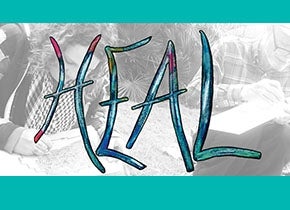 HEAL with HeART
Sept. 12 - Dec. 11, 2017
Art created by people who are homeless, supported by a program that brings a mobile art studio to their communities and provides space for creative expression at the Central and Pacific Beach libraries.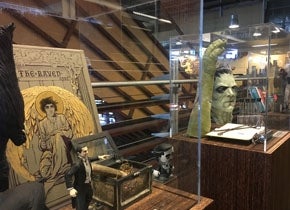 Oh, the Horror!
Until Nov. 30, 2017
The evolution of the macabre in popular culture, seen through film and literature.  On display are horrifying objects from personal collections and frightening books from the library.
Central Library, OliverMcMillan I CAN! Center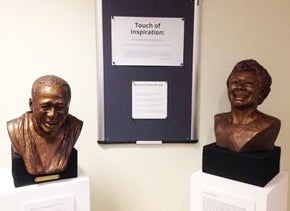 Touch of Inspiration: A Tactile Art Experience
Nov. 1 - Dec. 31, 2017
Socially Conscious Art by sculptor Marsha Brook. All patrons are encouraged to touch and feel the sculptures of social activists Dolores Huerta, Ben Vereen, and Maya Angelou. This tactile experience offers those who are blind or visually impaired the opportunity to participate in the exhibit. All text for the exhibit is offered in print and in Braille.
---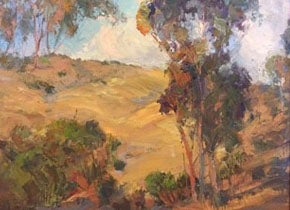 Credit: T. Williams
Fresh Paint
Oct. 15, 2017 - Jan. 6, 2018
Notable California artists display plein air and studio landscapes showing our state's beauty and colorful diversity.
---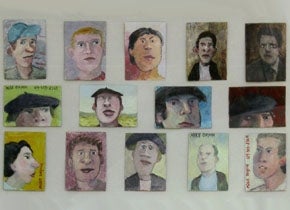 Credit: M. Dayon
Fritz the Artist
Nov. 7 – Dec. 31, 2017
The creative expressions of Mike Dayon, also known as "Fritz the Pear Man".
---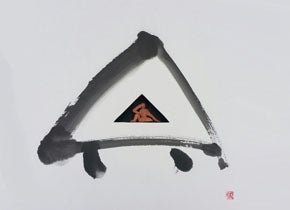 Credit: Y. Lee
Aug. 28 - Nov. 27, 2017
Young Lee's creations are inspired by traditional Korean folk art, with colors and symbols that represent wishes for harmony and well-being.
---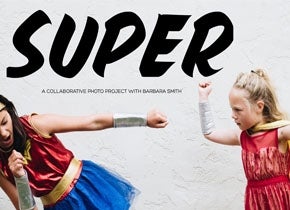 Credit: B. Smith
SUPER 
July 15 - Dec. 31, 2017
SUPER is a collaborative photo project with local North Park photographer and artist Barbara Smith, featuring some SUPER kids from the community. For this project, she asked the kids some questions about what they would could do if they could have any super power, and used that information as the bouncing off point for a fun photoshoot in various places in North Park and downtown San Diego.
---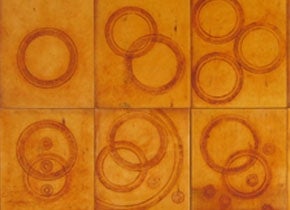 Credit: J. Rodriguez
Liquid Amber: The Art of Encaustic Painting
Oct. 15, 2017 - Jan. 2018
Two- and three-dimensional works made with encaustic wax by artist Josie Rodriguez.  The exhibit honors the plight of honeybees and addresses the themes of communication and memory.
---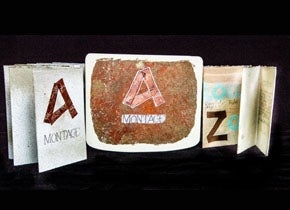 Credit: B. Brice
San Diego Fellow Calligraphers
Sept. 9 - Nov. 27, 2017
Celebrating SDFC's 40th anniversary: an exhibition of original multimedia works that reflect a wide variety of styles, colors and forms, and incorporate an array of calligraphic styles.
---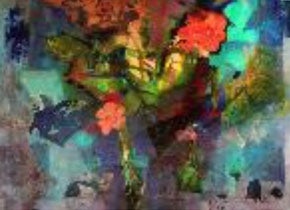 Credit: V. Sorrentino
Vita Sorrentino
Oct. 1 - Dec. 31, 2017
Abstract paintings from an Italian-born artist.  Watercolor has been Sorrentino's medium of choice; she is beginning to paint also in acrylic and gouache.
---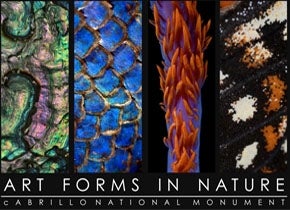 Art Forms in Nature
Oct. 3, 2017 - Jan. 16, 2018
This exhibit focuses on shape, structure, color and pattern in nature, beautifully highlighting the interplay between form and function. Nature photography by Michael Ready in conjunction with Cabrillo National Monument.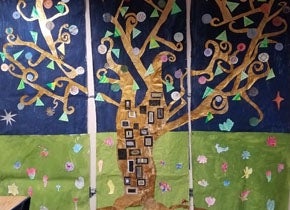 Credit: Innovations Academy
A Midsummer Night's Dream
Nov. 1 - Jan. 31, 2018
Inspired by Gustaf Klimt's "Tree of Life," students at Innovations Academy in Scripps Ranch created this backdrop for their production of "A Midsummer Night's Dream".
---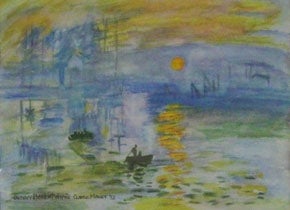 Credit: S. Borkat
The Old Masters
Nov. 8 - 30, 2017
Faithful copies of some of the world's most famous paintings. Presented in watercolor and oil by members of the Foothills Art Association. Reception Saturday Nov. 18, noon - 2 p.m.
---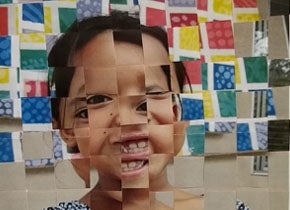 Credit: M. Contreras
Zamorano Fine Arts Academy
Nov. 1 - Dec. 31, 2017
Works by students at a K-5 visual arts magnet school where art is integrated in all areas of the curriculum, leading to enhanced creativity and critical thinking skills.  Reception Wednesday Dec. 6 2017, from 5 – 6 p.m.
---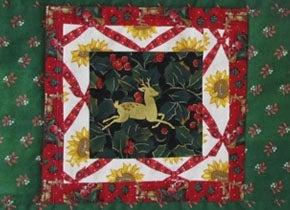 Nov. 8 – Dec. 31, 2017
Quilted items by Gloria Davis Houchin, made from fabric scraps purchased at yard and garage sales in Tierrasanta.
---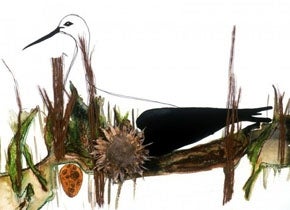 Credit: J. Farmer
Nov. 1 - Dec. 31, 2017
Watercolors with pen-and-ink detail, celebrating the beauty of nature, birds and animals.
---
Exhibition Opportunities
SDPL is pleased to have hosted exhibitions and displays by groups such as West Coast Drawing, San Diego Mesa College Museum Studies Program, the Museum of Photographic Arts' Education Department, the Pastel Society of San Diego, High Tech High, Veterans Art Project, San Diego Watercolor Society, the Art Glass Association of Southern California, Words Alive, and various individuals artists and craftsmen.
Exhibit Space is made available on equitable basis regardless of the beliefs or affiliations of individuals or groups requesting their use. The Library endeavors to present a broad spectrum of opinion and viewpoints. The Library does not accept responsibility for ensuring that all points of view are represented in any single exhibit.
To initiate use of Exhibit Space; Library staff must receive a completed online application from the party requesting the exhibit.
---
Frequently Asked Questions
How do you choose what to exhibit in the library?
All potential use of Exhibit Space shall be evaluated by criteria, which may include, but are not limited to:
Public Safety: The exhibit must not pose hazards or threats to public safety or public health and/or must not pose a potential liability for the City of San Diego in any other way.
Availability of Resources: The availability of Exhibit Space and necessary Library staff support. Preference will be given to exhibits that do not require an excessive outlay of City of San Diego resources.
Excellence: The level of exhibit quality and conceptual content.
Security: The nature of the proposed security measures for the exhibit.
Relationship to Exhibit Space: The scale and nature of the exhibit in connection with environmental, physical, and/or functional contexts, both existing and planned.
Content Considerations:  Exhibit content should be appropriate in material, form and content for the library environment.  In general, the Library does not accept exhibits of a purely commercial nature, unless they have a special educational, informational, or cultural value to the community. Materials advocating a particular vote on a candidate or ballot proposition may not be exhibited.
Associated Programming: Exhibitors are encouraged to participate in a lecture or demonstration during the show. Evaluation will consider willingness to prepare creative associated programming. Associated programming will be arranged in consultation with the Branch Manager.
Priority: Organizations and individuals based in San Diego or serving primarily San Diego residents, which have not used Exhibit Space within the past year, will be given priority.
How can I exhibit at the Central Library?
Programming for the gallery at Central Library is curated and we are not accepting unsolicited applications. There are limited opportunities to display in cases throughout the library, in the Teen Center, or in the Popular Library on the ground floor. Please contact us with a letter of interest to determine if these spaces are appropriate for your needs.
---
Photo Gallery
---
Contact Us