SDPL Recommended Books
Staff Picks 2018
San Diego Public Library staff write short book reviews of their favorite titles for the San Diego Union Tribune, which are published every other Sunday. These are a selection of the titles we've recommended. Checkout information may be found in the library catalog under Staff Picks. 
---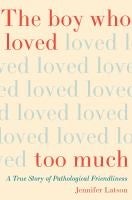 Reviewed by Kristina Garcia
Librarian II, San Diego Central Library
San Diego Union-Tribune, Jan. 7, 2018
Jennifer Latson, a journalist, spent three years with Gayle and Eli D'Angelo in order to accurately tell their story of living with the effects of the genetic disorder Williams Syndrome. Williams Syndrome affects learning, socialization, and physical development in very specific ways, but is not as well-known as other disorders such as autism. This highly informative yet readable book sharply illustrates Eli's unmodulated love of others and how his gregarious personality is both a joy and a burden to his mother as she tries to guide him to a fulfilling, happy, and safe adulthood. This book provides an engaging narrative that weaves themes of medical science with social science and keeps you rooting for Gayle and Eli all the way.