SDPL Recommended Books
Staff Picks 2017
---
Librarian II, Central Library, San Diego Public Library
San Diego Union Tribune, February 5, 2017
Often biographies of dysfunction in families are viewed from the outside, from a retrospective view or as a survival story. You know what you are dealing with going in. In "KooKooLand", the full extent of dysfunction crossing into real danger unfolds as the author, Gloria Norris, matures. When she is five years old, Gloria's father is the center of the world – letting her be his sidekick for his questionable business dealings while always showing himself as the fastest, smartest, and strongest. She absorbs his lingo and his worldview. As time goes on, however, Gloria comes to the realization that what she knows as "normal" life is actually the opposite. A riveting description of a man that in the past might have been described as macho, charming, or powerful, but would be characterized quite differently today.
Librarian II, Kensington-Normal Heights Branch
San Diego Union Tribune, January 22, 2017
If you are like me, you like some poetry but are not exactly sure why. Should we just try to glean the meaning of words we don't recognize in a poem through context or look them up?  "Singing School: Learning to Write (and Read) Poetry by Studying with the Masters" by U.S. Poet Laureate Robert Pinsky is a readable classroom with bite-size pieces of information. The book is broken up into 4 section headings: 1. Freedom - poetry without rules. 2. Listening - is there music in the word structure? 3. Form - how is the poem arranged? 4. Dreaming Things Up – what is in this poem that you cannot explain and yet respond to. Pinsky brings a wide selection of poets to present.  Pick a poet and read in any order that suits your mood, while your path is guided by the Poet Laureate who wants the reader to relax and enjoy. 
Librarian II, Central Library, San Diego Public Library
San Diego Union Tribune, January 8, 2017
This remarkable book uniquely illustrates the Grimms' tales with sculptures created by an artist and illustrator who excels at visual storytelling. Photographs of Shaun Tan's artworks are paired on facing pages with extracts of Grimms' tales written by folklore expert Jack Zipes. Tan believes that "what matters above all else are the hard bones of the story" and each of his small sculptures capture the essence of a familiar tale. The three-dimensional figures bring new life to the stories with a stark simplicity of form and sparing use of color. Tan acknowledges his inspiration from Inuit stone carvings and Neil Gaiman's foreword notes the similarity: "They feel primal, as if they were made in a long-ago age of the world, when the stories were first being shaped." The book can be enjoyed on its own for the extraordinary artwork, but also for the enduring appeal of the stories themselves. 
---
Staff Picks 2016
Librarian II, Central Library, San Diego Public Library
San Diego Union Tribune, October 16, 2016
Gerald Durrell's sense of wonder and infectious enthusiasm for nature's diverse creatures, including his eccentric family, make this account of his childhood adventures on the Greek island of Corfu a pleasure to read. Written with dry wit and keen observation, Durrell blends scientific details of native fauna and descriptions of the island's natural beauty with entertaining family anecdotes about their close encounters with local animals and insects. In 1935, ten-year-old Gerry arrived on Corfu with his widowed mother and three older siblings, including brother Larry the novelist (Lawrence Durrell). They stayed five years until WWII forced their return to England. The budding naturalist's boyish compulsion to capture animals and insects for study and companionship grew into an adult passion for wildlife conservation. In 1959, soon after writing this book, he founded his own zoo on the island of Jersey, the Durrell Wildlife Park, exclusively for the care and protection of rare and endangered species. 
Branch Manager, City Heights/Weingart Library
San Diego Union Tribune, October 2, 2016
A self-help book based on the life of the laziest man in literature, the author presents Proust's lifelong search for beauty and meaning and attempts to answer such questions as: "How to Love Life Today," and, "How to Suffer Successfully."  Entertaining and informative, with side trips into Edwardian era exercises for young girls, a typogram of a Proustian sentence winding around a wineglass 17 times, and a Monty Python reference, this book distils ideas about expanding the details of the story in order to appreciate the moment, finding beauty in everyday objects; also that examining suffering can mitigate pain, that only your unique voice can express truthful emotion, and that unvarnished truth has no place in friendship. De Botton unpacks it all with the fascination and enthusiasm of a favorite college professor; reading the original is not necessary, but he might just make you want to. 
Librarian II, Kensington Branch Library
San Diego Union Tribune, September 18, 2016
This is a very unique book! It doesn't fit neatly into any category. Is it young adult or adult? Is it a Holocaust story? Historical fiction? Magic realism? Folklore? Debut author Savit is a masterful storyteller. The story begins in Poland with 7-year-old Anna whose linguistics professor father has been taken away by the Germans for being an intellectual. Anna is left to fend for herself and gravitates towards an odd man who communicates with birds. Additionally, this is a great book for book clubs and teachers as it is ripe for discussion and students will love the tragic nature of the Anna's story and her surrogate father. The bonus is that it can be read and listened to. The audio book narrated by Allan Corduner is mesmerizing. This is a perfect marriage of story and narration. A story that is haunting, beautiful and hopeful. 
Librarian II, Central Library, San Diego Public Library
San Diego Union Tribune, September 4, 2016
This book is a multi-layered mystery with a bit of horror movie action thrown in as murder creeps into an isolated Yukon Territory village. This village is purposely insulated, however, being populated entirely by people who "need to disappear" from their previous lives for varying degrees of time. Author Armstrong has created a perfect recipe for secrets to abound in the background of each citizen, the unidentified council that controls admission of residents, and in the surrounding wilderness that both shields and threatens their safety. The first secret is unpacked upon meeting our main character, the young but hardened detective, Casey Duncan. A nagging question is introduced: can transgressions ever be excused by their circumstances? As the background stories unravel for various characters, outright lies and true corruption mingle with fallout from human emotion, mental illness, and just plain bad choices. A page-turner full of covert motivations.
---
The Rope Swing: Stories - Jonathan Corcoran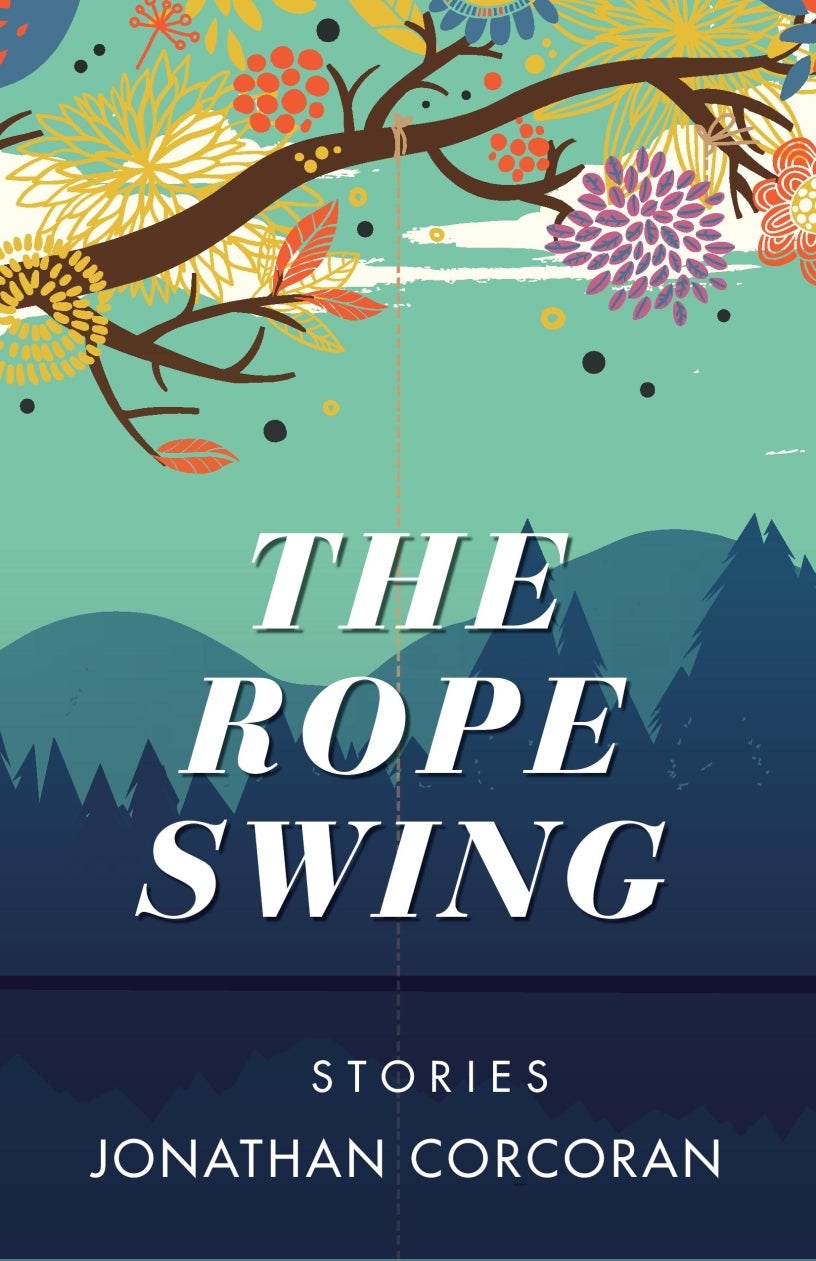 Reviewed by Melissa Martin
Branch Manager, University Community Branch Library
San Diego Union Tribune, August 21, 2016
Corcoran's collection of stories opens in a small unnamed town in Appalachia, at a ceremony honoring the last run of the railroad train connecting to the city, and marking the end of an era. But even as the world grows and changes around them, the town and the residents remain the same. This theme of change flows through each of Corcoran's stories, and as the characters reach milestones in their lives, they are faced with choices which have them reflecting on a past alternating between nostalgia and melancholy. The choice: stay with the known and familiar, no matter how limiting or stifling, or take the risk of moving forward into a new and unfamiliar world beyond their experiences in a small town. Corcoran's descriptions of small town America and its inhabitants – playing in rivers, talking with the neighbors or driving through town at night – will be familiar to many.
---
Reviewed by Brenda Wegener
Branch Manager, Carmel Valley Library
San Diego Union Tribune, August 7, 2016
This gorgeously heart-rending novel which won this year's Dublin/IMPAC Literary Award, tells the story of eight year old Ajay, his older brother and parents. It opens as they are trying to immigrate to the United States in the early 1970s as India has fallen under emergency rule. Despite political troubles, their lives are easy there but the father, Mr. Mishra longs for the modernism of the new world. When the family arrives they are delighted with their apartment in Queens complete with an elevator. Ajay's brother, Birju settles in particularly well and when he passes his entrance exams for the Bronx High School of Science, the family is elated. All this changes one afternoon when Birju dives into a swimming pool, hits his head and suffers irreparable brain damage. Related in unsentimental yet moving narration, we see the different ways grief and misfortune affect husbands, wives and children. A deeply touching portrayal.