Local Author Program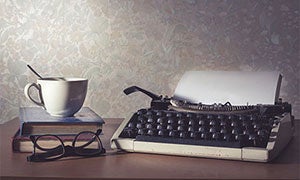 51st Annual Local Author Program
---
Register for Local Author Program
About the Program
The Local Author Program highlights the intellectual and creative accomplishments of writers in the San Diego region. In its 51st year, the aim of the Exhibit is to bring exposure to local talent and nurture the pursuit of the writing arts in San Diego.
A call for submissions goes out in September 26, 2016 alerting all San Diego county authors who have published books in the current year to submit them. The annual deadline for submitting books is October 24, 2016. Authors register online on the Library's website.
The Exhibit runs throughout the entire month of February in the lobby of the San Diego Central Library @ Joan Λ Irwin Jacobs Common. Participants are invited to attend a special exhibition preview and an author's reception prior to the public unveiling. Submitted publications are also exhibited in an Online Gallery that lasts throughout the year and features author information, book cover images, and title and publishing information.
In 2015, the Library inaugurated a special Little Local Authors exhibit for writers ages 11 and under, conceived in order to accommodate the increasing number of young authors who enter the Local Author Exhibit every year. Little Local Authors takes place in March following the adult exhibit in February. In 2016, Teen Local Authors will be highlighted and featured as well for teen writers between 12 and 18 years of age.
The San Diego Public Library has long hosted special events for authors including book discussions, writing workshops and author talks, where writers are able to interact directly with their readers as they share, sell and sign their books. The Local Author Exhibit is presented for reading interest as well as the opportunity to highlight the diverse and abundant talent we have locally.
---
Frequently Asked Questions
---
For more information about the Local Author Program contact us at [email protected]. For other events at the San Diego Public Library's Central Library and 35 branches, or to search for materials in the Library's catalog or to find links to numerous additional resources, please visit www.SanDiegoLibrary.org or call the San Diego Public Library at (619) 236-5800.