Stakeholders
Pure Water Working Group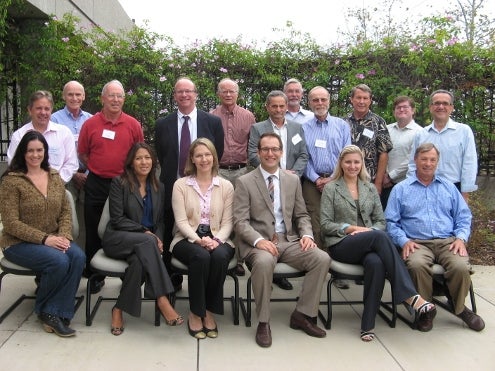 The City of San Diego formed the Pure Water Working Group to provide diverse viewpoints and input on the City''s efforts to provide a safe, reliable and cost-effective drinking water supply for San Diego. An invitation to join the Working Group was sent to a diverse group of stakeholders, including representatives from community planning groups, businesses, City Council district offices, nonprofit environmental organizations and community leaders.
The Working Group serves as a forum for gaining input and feedback from stakeholders who represent the Public Utilities Department's customers and broad community interests.
Objectives of the Working Group:
Provide feedback on Pure Water Program elements and strategy.
Become knowledgeable about the Point Loma Wastewater Treatment Plant permit history and process.
Provide input on legislative approaches to accomplish secondary equivalency for San Diego.
Review findings associated with Pure Water costs and associated impacts on rates.
Provide input to City of San Diego and other stakeholders, as appropriate.
Develop a document containing key recommendations/observations.
The Working Group met eight times during 2014 and developed a report detailing their key recommendations and observations. The input gained will enable the City to advance a well-rounded, comprehensive potable reuse implementation plan. The group has been fully briefed on the components of Pure Water San Diego and toured the facilities that play an integral part in the Pure Water process.
A list of the organizations with representation on the Pure Water Working Group can be found 

here.
The November 2014 Pure Water Working Group Report can be found 

here.
In 2015, the City invited additional stakeholder organizations to appoint associate members to the Working Group. The expanded group meets a few times per year.
Independent Advisory Panel
In 2009, the City of San Diego Public Utilities Department requested the National Water Research Institute of Fountain Valley, Calif., form an Independent Advisory Panel (IAP) to provide expert peer review of the Water Purification Demonstration Project. The 10-member panel consisted of academics and professionals with longstanding expertise in the science of water reuse.
The IAP met 10 times over three years, and issued a summary of its findings in November 2012. The panel unanimously concluded that the Demonstration Project satisfied all the City Council directives and stated that a project at San Vicente Reservoir would be a landmark achievement for San Diego.
Now, as the City moves forward with implementing the Pure Water San Diego program, a 10-member Independent Advisory Panel has been reconvened to provide expert peer review of the technical, scientific, regulatory and policy aspects of reservoir modeling for the Miramar Reservoir and any future potable reuse study required as part of the Pure Water program.
The IAP members are experts in water and wastewater treatment technology, public health, microbiology, toxicology, limnology, environmental chemistry, regulations and permitting. The current members are:
Michael A. Anderson, Ph.D., Professor of Applied Limnology and Environmental Chemistry, Department of Environmental Sciences, University of California, Riverside (Riverside, Calif.)
Richard Bull, Ph.D., Consulting Toxicologist, MoBull Consulting (Richland, Wash.)
Amy Childress, Ph.D., Professor and Director of Environmental Engineering, University of Southern California (Los Angeles)
Joseph A. Contruvo, Ph.D., BCES, President, Joseph Cotruvo & Associates, LLC (Washington, D.C.)
James Crook, Ph.D., P.E., BCEE, Environmental Engineering Consultant (Boston)
Richard Gersberg, Ph.D., Professor and Head, Division of Occupational and Environmental Health, Graduate School of Public Health, San Diego State University (San Diego)
Channah M. Rock, Ph.D., Water Quality Extension Specialist and Assistant Professor, Department of Soil, Water, and Environmental Science, University of Arizona (Tucson, Ariz.)
David R. Schubert, Ph.D., Professor and Chair, Cellular Neurobiology Laboratory, The Salk Institute for Biological Studies (San Diego)
George Tchobanoglous, Ph.D., P.E., NAE, BCEE, Professor Emeritus, University of California, Davis (Davis, Calif.)
Michael P. Wehner, Assistant General Manager, Orange County Water District (Fountain Valley, Calif.)
State Water Resources Control Board Division of Drinking Water Programs
The state Division of Drinking Water Programs, known as the California Department of Public Health (CDPH) prior to 2014, is responsible for developing and administering regulations to protect public health in California, including permitting public water supply projects. Because the City's reservoir augmentation project would include augmentation of drinking water supplies, the project required conceptual approval from CDPH. In September 2012, CDPH granted San Diego conceptual approval for its reservoir augmentation concept.
There are no regulations for indirect potable reuse with reservoir augmentation or for direct potable reuse. Water Code Division 7, Chapter 7.3 directs the Division of Drinking Water Programs to do the following by Dec. 31, 2016:
Develop and adopt uniform criteria for regulations for indirect potable reuse, and
Investigate and report on the feasibility of developing uniform criteria for direct potable reuse.
With grant funding made available by California Propositions 50 and 84, the City of San Diego has partnered with the WateReuse Research Foundation as part of the Direct Potable Reuse Initiative. San Diego is testing ozonation and biological activated carbon filters at the Pure Water Facility that could potentially provide additional barriers for the full-scale water purification facilities.
San Diego Water Board
The San Diego Water Board is responsible for developing and enforcing water quality objectives for surface water and groundwater bodies within the San Diego region. Since the City's reservoir augmentation project at San Vicente Reservoir would involve releasing purified water into San Vicente Reservoir (the required environmental buffer), the project falls under the jurisdiction of the Board.
The City submitted its proposed compliance approach (technical report) to the Water Board in August 2012. With concurrence from the U.S. EPA, the Board wrote in its February 2013 letter that its members strongly support development of a water purification facility with reservoir augmentation and the City's approach for doing so.
Both Division of Drinking Water Programs and the San Diego Water Board remain regulators for Pure Water San Diego and its next steps.