Switching to Recycled Water
Every customer site, whether wanting to connect to the recycled water distribution system or expand their existing on-site system, must go through a plan review and inspection process by the City of San Diego and the County of San Diego Department of Environmental Health. The reviews and inspections are mandated by California State Code to ensure the appropriate regulations are followed and the site is safeguarded from a potential cross-connection between the recycled water system and the potable water system.
Availability Zone
The City of San Diego offers recycled water service in the northern and southern most parts of the City. The Recycled Water Availability Map allows you to locate your proximity to a recycled water distribution system.
If you would like more information, please review the

Frequently Asked Questions or email us at [email protected].
Northern Service Area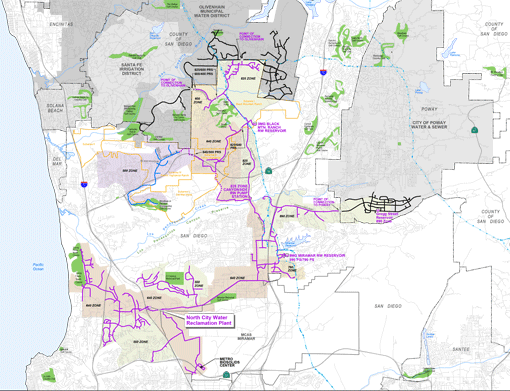 Southern Service Area