Plumbing Retrofit Upon Re-sale Ordinance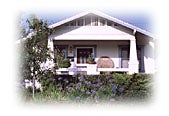 The 

San Diego Municipal Code 147.04 requires that all buildings, prior to a change in property ownership, be certified as having water-conserving plumbing fixtures in place. All residential, commercial and industrial water customers who receive water service from the City of San Diego Public Utilities Department are affected by this ordinance.
Who is Responsible?
The seller/transferor is responsible for ensuring that the property is in compliance, and for filing a Water Conservation Certificate with the City prior to close of escrow.
The seller provides the $10 filing fee which must be submitted with the Certificate.
The seller and the buyer may mutually agree to transfer the retrofit responsibility to the buyer. In that case: The seller/transferor must submit a Transfer of Responsibility to Retrofit Certificate to the City of San Diego. The buyer/transferor has 90 calendar days to retrofit the plumbing fixtures in the property and 30 days thereafter to file a Water Conservation Certificate (along with a $10 filing fee) signifying completion.
Filing a Water Conservation Certificate is not required for properties that do not receive water service from the City of San Diego Public Utilities Department. Please verify with individual water districts if similar ordinances exists, (i.e., CAL AM [California American], Olivenhain, etc.). View a list of other water districts in the area.
Note: The filing of a Water Conservation Certificate is not necessary if the property already has a complete and valid Water Conservation Certificate on file with the City. You may verify if a valid Water Conservation Certificate is on file by using one of the following options:

Web: Water Conservation Certificate Verification
Email: [email protected]
Fax: 619-533-5300
Phone: 619-533-7485
Certificate Filing
Blank Water Conservation and Transfer of Responsibility to Retrofit Certificates are available on-line (see above). You can fill out the form(s) on-line and then print out the form. Be sure to complete all sections of the certificate, including the seller/transferor and buyer/transferee signatures. Incomplete certificates will be returned. Enclose a $10 check or money order, payable to the "City Treasurer," to pay for the certificate filing fee.
Mail completed certificate and payment to:
City of San Diego Public Utilities Department
Water Conservation Program
525 B St., Suite 300
San Diego, CA 92101-4409
Plumbing Fixture Retrofit Requirements
Toilets which are manufactured to use more than 3.5 gallons per flush (gpf) must be replaced with Ultra-Low Flush Toilets that use 1.6 gpf or less. Modifications intended to reduce the flow of an existing toilet, such as the use of toilet bags, dams, bricks or other alternative flushing devices, are not permissible and do not comply with the code provisions.
Showerheads that emit more than 2.5 gallons per minute (gpm) must be replaced with a low-flow showerhead that uses no more than 2.5 gpm. Showerhead flow restrictors are not acceptable. The entire showerhead must be replaced with a low-flow model.
Sink faucets (bathroom, bar, and kitchen sink faucets) that use more than 2.2 gpm must be retrofitted. Faucet aerators may be installed to reduce the water flow.
Reverse Osmosis Systems require automatic shut-off valves.
Urinals that use more than 1.0 gpf must be replaced with low-flush models. The entire fixture must be replaced, not just the flush valve.
Financial Incentives
Toilet rebates are currently available only for commercial, industrial and institutional properties. For rebate information, please visit the Metropolitan Water District's Be Water Wise website at www.bewaterwise.com.