Special Events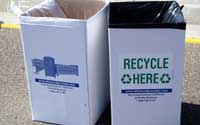 Beginning February 18, 2008, the

City of San Diego Recycling Ordinance requires that the responsible person for a community special event must provide recycling containers throughout the venue.
The ordinance applies to special events held on public property that require a permit from the City of San Diego. Typical events include runs, walks, triathlons, festivals and parades. For more information on special event permits, contact the Office of Special Events.
The recycling ordinance requires that:
The number of recyclable containers at special events be equal to the number of trash containers.
Recycling and trash containers must be placed next to each other throughout the event.
Each recyclable container must be clearly identified as a recycling receptacle and display a list of types of recyclable materials accepted.
Organizers can determine types of recyclables to be collected, as long as the recyclables include aluminum and metal cans, glass and plastic bottles and jars.
The event's coordinator must ensure that all recyclable materials are delivered to a recycling facility, and not to a landfill.
The use of disposable expanded polystyrene, (a.k.a. Styrofoam™) foodware is highly discouraged due to its tendency to easily break apart and create litter. Alternatives such as plastic, paper, or reusable plates/cups should be used instead.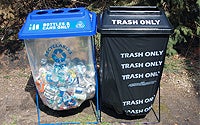 More Information and Resources: