College Area Community Plan Update
About the Plan Update
The City of San Diego is updating the College Area Community Plan, last updated and adopted in 1989. The update will consider current conditions, Citywide goals within the Climate Action Plan, the General Plan, the City's Strategic Plan, and community-specific goals to shape what the community looks like into the future.
We're currently in the process of preparing a General Plan Refresh called Blueprint SD. This Refresh will serve as a guide for future community plan updates, including the College Area Community Plan. This will help to meet housing, equity and Climate Action Plan goals across the City. Once the General Plan Refresh is completed, we will continue preparations for the first draft of the College Area Community Plan. We want to make sure our efforts are in line with our Citywide objectives, while ensuring that the College Area community will be able to most effectively shape what the College Area will look like.
The first draft of the updated College Area Community Plan (the 'discussion-draft') will take into consideration what we've heard so far from the community and will also consider our current conditions and Citywide goals. We will share multiple drafts with the community to gather community insights and engage in meaningful discussions before finalizing the plan.
We value all input for the future of the College Area and, by working together, we can meet important goals related to housing, equity, and Climate throughout our city. Stay tuned for future updates on public engagement events where you can share your thoughts as the College Area Community Plan Update continues. Together, let's create a vibrant, sustainable, and prosperous College Area community that we can all be proud of!
Community Plan Update Process Timeline
Projected Completion: 2024
Community Plan Update Process Timeline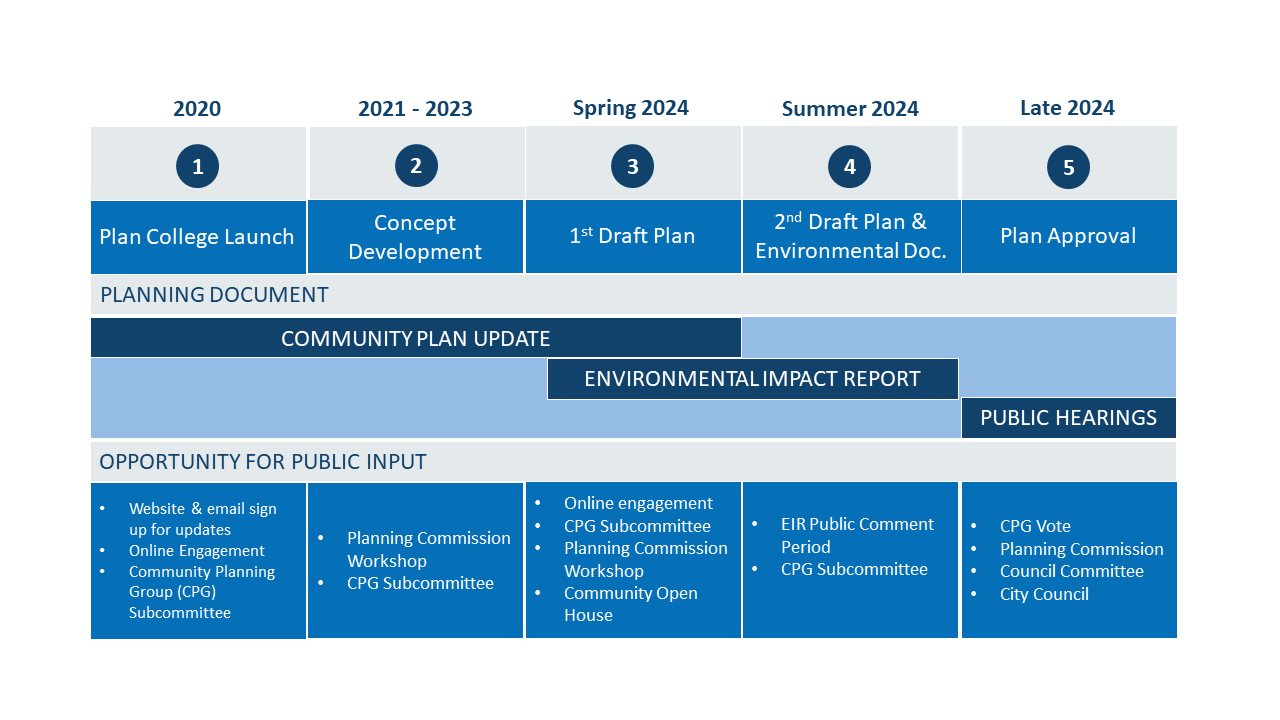 How to Keep Updated & Get Involved
The College Area Community Plan Update Committee 
The College Area Community Plan Update Committee is an advisory group that play a role in providing feedback to the City during the Community Plan Update process. Committee meetings are currently on hold, but meetings will resume once the discussion-draft for College Area is available. A registration link will be available here as future meetings are scheduled. In the meantime, view all materials created for committee here.
Email Us
Any additional comments, suggestions or questions can be submitted at PlanCollegeArea@SanDiego.gov and a Community Planner will get back to you.
Supporting Documents and Materials