Community Profiles Eastern Area
El Cerrito Heights, Rolando, Rolando Park, Redwood Village, Oak Park and Webster are neighborhoods that make up the Eastern Area. El Cerrito Heights is a hilly neighborhood that predominantly contains single-family homes with some multi-family development along El Cajon Boulevard and University Avenue, which are the main east-west corridors in the Eastern Area. The rolling hills of Rolando and Rolando Park are among the more recently developed neighborhoods of Mid-City, with Rolando developing prior to World War II and Roland Park in the mid-1950s. Both are predominantly single-family homes along curving streets, with some multi-family near the strip commercial development along El Cajon Boulevard and University Avenue.
Darnall, Oak Park and Webster are neighborhoods that are predominantly single-family homes, but also include large multi-family complexes and a mobile home park both in Oak Park and in Webster. Oak Park is home to Chollas Lake Park.
Chollas Triangle Master Plan
The plan effort proposes to create a mixed use neighborhood village that celebrates Chollas Creek, provides housing, creates new park land, and promotes transit in the Eastern Area of Mid-City. The plan effort includes an amendment the Mid-City Communities Plan, the City of San Diego General Plan, and rezone the Chollas Triangle area.
Goals
Create an active neighborhood village with an integrated mixture of residential, commercial, and recreational uses.
Create an open space system and development pattern that connects adjacent neighborhoods to and through Chollas Triangle.
The area comprises approximately 43 acres bound by University Avenue to the north, Chollas Creek and Chollas Parkway to the south and east, and 54th Street to the west. The proposed land use changes to the Mid-City Communities Plan — Chollas Triangle are to redesignate approximately 24.46 acres of land designated Commercial and Mixed-Use and approximately 3.56 acres of Industrial to Neighborhood Village. The project would also revise the Communities Plan Future Recommended Street Network to redesignate the 11.4-acre portion of Chollas Parkway within the project site to approximately 4.99 acres as population-based park land, 5.5 acres as open space, and 0.91 acres as Neighborhood Village. These changes would allow for the development of multi-family housing in a mixed-use setting with nearby shopping and services.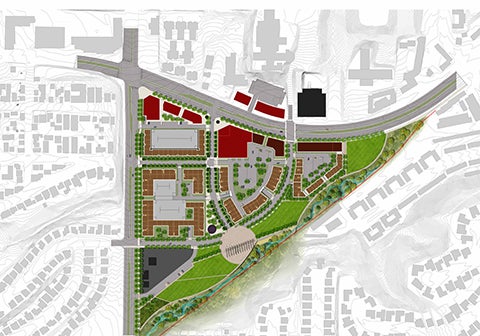 FINAL Environmental Impact Report
The FINAL Environmental Impact Report for the Mid-City Communities Plan Amendment-Chollas Triangle is available below.
To get involved in the Chollas Triangle study, contact Michael Prinz at [email protected] if you would like to be added to the email list.
Chollas Creek Enhancement Program
The City of San Diego is undertaking the Chollas Creek Enhancement Program as a key element in revitalizing this culturally-rich portion of the City. The goal is to create an open space system that lends identity to this area and provides a safe recreational and natural resource for the region.
Construction on two Pilot Projects for the Chollas Creek Enhancement Program has begun. Segment 2A is at the intersection of Market Street and Euclid Avenue and Segment 8 is adjacent to the intersection of South 38th and Alpha streets. The scope of this project includes the removal of concrete channels along the creek, restoration of native vegetation and the creation of a linear park type setting with the inclusion of a trail system and an educational / interpretive element. This project will transform these two sections of the creek and the surrounding areas into positive open space features that the community can be proud of.
Chollas Creek Enhancement Program, adopted May 14, 2002
Chollas Creek South Branch Implementation Program