Community Profiles Mission Valley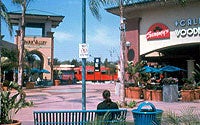 The Mission Valley planning area comprises approximately 2,418 net acres and is located near the geographic center of the City of San Diego. Part of the San Diego River floodplain, it is generally bounded by Friars Road and the northern slopes of the valley on the north, the eastern banks of the San Diego River on the east, the southern slopes of the valley on the south, and Interstate 5 on the west.
Throughout the history of Mission Valley, the San Diego River has been a primary attraction, first as a source of fresh water and later as a scenic recreational asset. After the Kumeyaay Indians came the Spaniards, locating the Mission San Diego de Alcala there in 1769. Sand and gravel extraction was introduced in 1913, and began in earnest about 1923. Major urban development has occurred since 1958, primarily as a result of improvements in the regional highway network. The construction of U.S. 80 (now Interstate 8) provided an impetus for commercial development in Mission Valley, and for displacement of the agricultural economy. Other significant projects include San Diego Stadium (now Qualcomm Stadium) which was completed in 1967.
After adoption of the East Mission Valley Area Plan in 1963 and preparation of the West Mission Valley Report in 1971, a community plan that unified the east and west and incorporated the entire valley was adopted in 1984. The community is now a regional center of office, hotels, retail sales, and a growing residential community, tied together by the San Diego Trolley.