Community Profiles: Rancho Encantada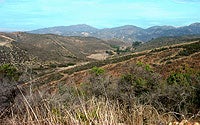 The community of Rancho Encantada is located east of Scripps Ranch, north of Marine Corps Air Station Miramar, west of the Goodan Ranch / Sycamore Canyon County Open Space Preserve, and south of Poway. The community encompasses 2,658 acres and is designated as Future Urbanizing in the City's Progress Guide and General Plan. Access into the community will be provided via Rancho Encantada Parkway which will connect to Pomerado Road.
Rancho Encantada is a new community that is planned for limited residential development in the future. A total of 935 homes are proposed for the 2,658 acre community. The community is defined by its rugged topography characterized by eroded ridges and canyons ranging in elevation from 600 feet in the west to 1,777 feet in the northeast. The community has been designed to protect the majority of the steep hillsides, canyons, and ravines by concentrating development along the upper elevations and in areas disturbed by the previous development (General Dynamics). The Rancho Encantada Precise Plan designates approximately 81% of the community for parks and open space, 18% for residential development and 1% for an elementary school and institutional use.