On View
On View is the San Diego Public Library's exhibition program and part of our mission to inspire lifelong learning through connections to knowledge and each other. Exhibition programs allow free access to the visual arts, while promoting San Diego artists and creative community groups. Rotating exhibitions can be enjoyed at many of the 35 branch libraries as well as in the Art Gallery and Valeiras Sculpture Garden on the ninth floor of the Central Library @ Joan Λ Irwin Jacobs Common.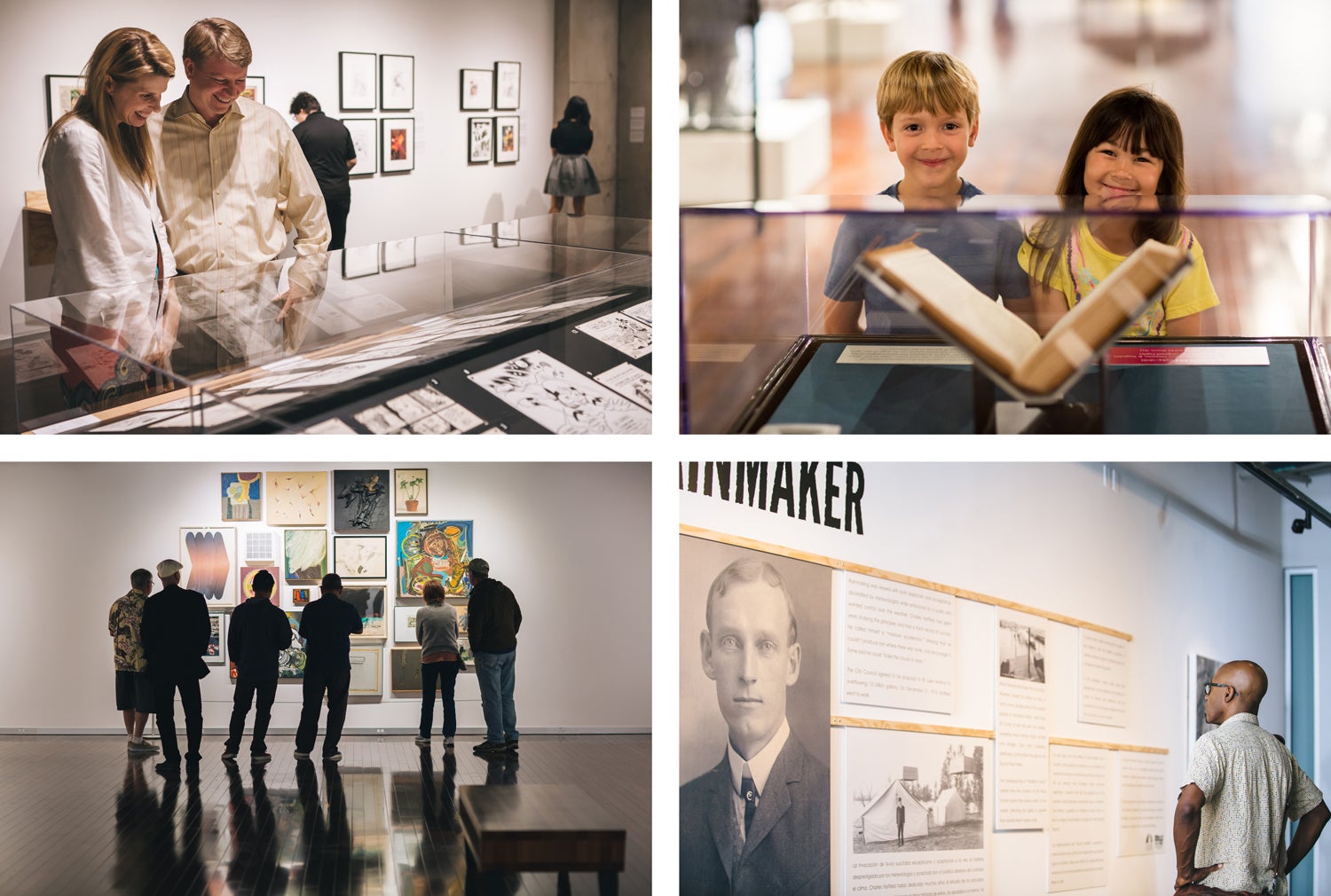 Caption (clockwise): Art of Comic-Con; First Folio! The Book That Gave Us Shakespeare; Portrait of Pomeroy; Rainmaker (photos by Stacy Keck)
---
On View at the Central Library
More than 150 paintings, drawings and photographs from the City of San Diego's own
Civic Art Collection
have been permanently installed on all floors of the library. Of particular importance are fourteen artworks by San Diego artist Russell Baldwin. The City of San Diego has one of the largest public holdings of Baldwin's works. Many of the artworks on display are those of significant San Diego area artists including Sheldon Kirby, Jean Swigget, Robin Bright and Jay Johnson. The Special Collections section of the library on the ninth floor houses some of the City's early California paintings by Alfred Mitchell and Elliot Torrey. The Hervey Family Fund Rare Books Room is home to six newly conserved and rarely seen prints from the 1800s, three by William Hogarth and three by Ando Hiroshige. In addition, paintings by Charles Fries and Maurice Braun and sculptural works by Donal Hord are on display in the Rare Books Room.
The Central Library is also home to four public art installations by internationally-recognized artists Donald Lipski, Elinar and Jamex de la Torre, Roy McMakin, and Gary Hill.
Currently On View
Intersecting Lines: The 11th Biannual Drawing Show
Art Gallery - 9th Floor, Central Library
Sept. 24, 2016 - Nov. 27, 2016
Opening Reception: Saturday, Sept. 24, from 12 PM - 2 PM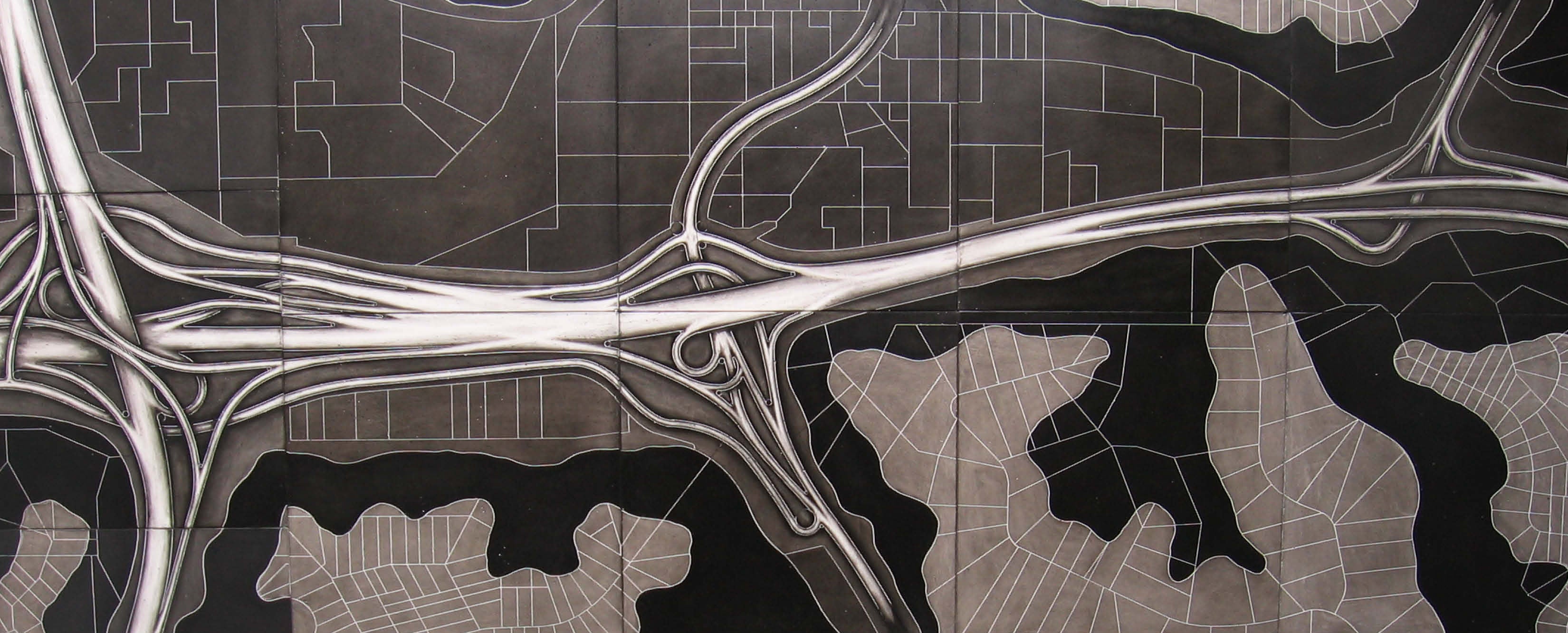 The Central Library is pleased to present Intersecting Lines: The 11th Biannual Drawing Show. This exhibition showcases San Diego-based artists applying a broad range of concept, media and process to demonstrate the value of this quintessential image-making technique. 
As human beings, we have put ideas into form since the Stone Age. Drawing helps to make our ideas tangible, from scribbles and doodles, to sketches and diagrams - drawing helps explain what words cannot. For studio artists, drawing is a fundamental skill, but the concepts and media they explore and employ are limitless. Anatomy lessons are testament to the prolificacy of an artist, while collaborative drawings can serve as artifacts of complex community investigations. From figurative work with pop culture references to political debates and built environment, these artists are creating thought-provoking, powerful works.  
Curated by Kara West, the Library Arts and Culture Exhibition Manager, featured artist include Joyce Cutler-Shaw, Dominic Paul Miller, Todd Partridge, Regan Russell, and Barbara Sexton. 
Intersecting Lines opens Saturday, September 24, 2016 and runs through November 27, 2016 in the Art Gallery on the 9th Floor of the San Diego Central Library. A reception is planned on opening day from 12 to 2 p.m. Both the reception and exhibition are open to the public and admission is free.
Previously On View @ Central (available soon)
---
On View at Branches
With 35 branch libraries in communities throughout the city, the San Diego Public Library has many great spaces to showcase educational, cultural, intellectual, charitable and recreational exhibits, as well as works by community art groups and individuals.
SDPL is pleased to have hosted exhibitions and displays by groups such as West Coast Drawing, San Diego Mesa College Museum Studies Program, the Museum of Photographic Arts' Education Department, the Pastel Society of San Diego, High Tech High, Veterans Art Project, San Diego Watercolor Society, the Art Glass Association of Southern California, Words Alive, and various individuals artists and craftsmen. 
For information on current and upcoming exhibitions see our schedule of branch exhibitions.