On View
On View is the San Diego Public Library's exhibition program and part of our mission to inspire lifelong learning through connections to knowledge and each other. Exhibition programs allow free access to the visual arts, while promoting San Diego artists and creative community groups. Rotating exhibitions can be enjoyed at many of the 35 branch libraries as well as in the Art Gallery and Valeiras Sculpture Garden on the ninth floor of the Central Library @ Joan Λ Irwin Jacobs Common.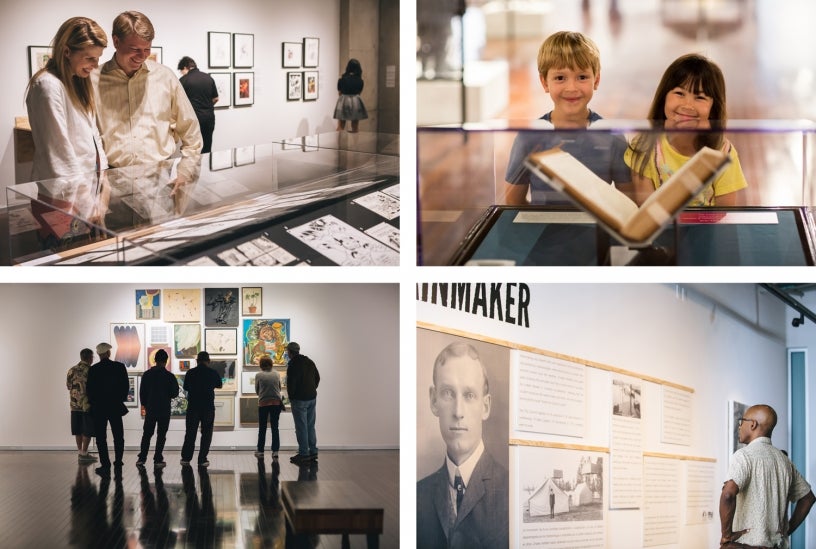 ---
On View at the Central Library
More than 150 paintings, drawings and photographs from the City of San Diego's own
Civic Art Collection
have been permanently installed on all floors of the library. Of particular importance are fourteen artworks by San Diego artist Russell Baldwin. The City of San Diego has one of the largest public holdings of Baldwin's works. Many of the artworks on display are those of significant San Diego area artists including Sheldon Kirby, Jean Swigget, Robin Bright and Jay Johnson. The Special Collections section of the library on the ninth floor houses some of the City's early California paintings by Alfred Mitchell and Elliot Torrey. The Hervey Family Fund Rare Books Room is home to six newly conserved and rarely seen prints from the 1800s, three by William Hogarth and three by Ando Hiroshige. In addition, paintings by Charles Fries and Maurice Braun and sculptural works by Donal Hord are on display in the Rare Books Room.
The Central Library is also home to four public art installations by internationally-recognized artists Donald Lipski, Elinar and Jamex de la Torre, Roy McMakin, and Gary Hill.
Currently On View
Weather on Steroids: the Art of Climate Change Science 
San Diego Central Library Gallery
June 10 - Sept. 3, 2017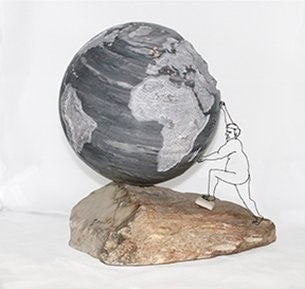 Weather on Steroids: the Art of Climate Change Science merges the artistic and the scientific for a visual dialogue about climate change, the effect of variable weather on local communi-ties, and Southern California's vulnerability.  The exhibit draws on scientific expertise at Scripps Institution of Oceanography, where investigators are researching climate change, humanity's role, and possibilities for a sustainable future.  Visual artists have responded with subjective images of the planet's upset balance and the impact of extreme weather.  By illuminating the reality of climate change, Weather on Steroids aims to stimulate public dialogue about one of the most important issues of our time.
Participating artists include Tiersa Cosaert, Judit Hersko, Cheryl E. Leonard, Dana Montlack, Lilleane Peebles, Oscar Romo, M. Luna Rossel, Eva Struble, Paul Turounet, Ruth Wallen and Allison Wiese. 
Contributing scientists include Michel Boudrias, Michael Dettinger, Alexander Gershunov, Kristen Guiguis, Ralph Keeling, Manfredi Manizza, Art Miller, Walter Munk, David Pierce, Richard Somerville, and Shang-Ping Xie. 
Organized by the La Jolla Historical Society in collaboration with Curator Tatiana Sizonenko and Science Consultant Alexander Gershunov.
Major support for this exhibition provided by Climate Education Partners (CEP), which is funded by the National Science Foundation, and by The Ray Thomas Edwards Foundation, Donald G. Yeckel, Chairman. Additional support provided by IS Architecture, the Samuel I. & John Henry Fox Foundation, the Florence Riford Fund of the San Diego Foundation, Walter and Mary Munk, Jeffrey and Joy Kirsch, and ArtWorks San Diego.
Media Sponsor

---
On View at Branches
With 35 branch libraries in communities throughout the city, the San Diego Public Library has many great spaces to showcase educational, cultural, intellectual, charitable and recreational exhibits, as well as works by community art groups and individuals.
SDPL is pleased to have hosted exhibitions and displays by groups such as West Coast Drawing, San Diego Mesa College Museum Studies Program, the Museum of Photographic Arts' Education Department, the Pastel Society of San Diego, High Tech High, Veterans Art Project, San Diego Watercolor Society, the Art Glass Association of Southern California, Words Alive, and various individuals artists and craftsmen.