What's Sampled
Marine Life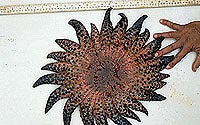 Commonly consumed and commercially important fish
Bottom dwelling animals
Smaller animals that live within the sediments, such as clams, crustaceans, brittle starfish and bristle worms
Sediments
Silt, sand and mud from the ocean floor
Ocean Water
Sensitive water testing equipment records ocean conditions, including pH, clarity, temperature and dissolved oxygen at various depths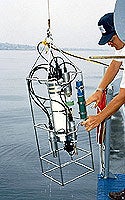 Ocean Monitoring staff collect fish regularly by rig fishing. Important sport and commercial fish species are examined to ensure they look healthy and the fish tissues are examined to determine whether or not pollutants are accumulating in them and causing negative effects. Trawling is also done by pulling nets over the ocean floor to gather bottom-dwelling animals. Invertebrate and fish communities are documented and fish are examined for overall health. Sediment grabs, water column testing and kelp bed surveys are also done to document the general health and safety of the waters off the coast.
The samples are analyzed to ensure that the sewage entering the Point Loma Wastewater Treatment Plant is free of industrial toxins and that effluent discharges to the ocean meet environmental quality standards. The chemistry lab tests sewage, ocean sediment and sludge, while the biology lab collects and analyzes oceanographic samples and data to monitor the effects of effluent on the marine environment. Lab results are forwarded to regulatory officials for verification that the wastewater treatment plant is meeting state and federal requirements.
In November 1993, an extension to the Point Loma Ocean Outfall was commissioned, making the outfall one of the longest and deepest in the world. Today, effluent is discharged into 320 feet of water, and is isolated from human contact by extreme depth, and cold water layers. Since the outfall extension was completed, the monitoring program has confirmed consistent compliance with state and federal water quality standards.
Scientists monitoring the ocean are concerned not only with the discharge effect, but also with long-term change related to the climate and unusual oceanographic events like El Niño. With more than 30 years of data gathering and analysis, the program has become one of the most sophisticated and comprehensive in the country.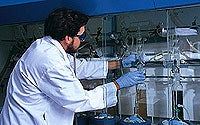 Ocean water is surveyed for pH, clarity, temperature, oxygen, oil, grease, sewage bacteria, salinity and dissolved oxygen. By measuring and charting these characteristics, it is possible to track where the effluent is traveling and how well it is dispersing. The key findings of our ocean monitoring program's oceanographic and scientific studies continue to demonstrate that the ocean is protected.
The International Boundary and Water Commission (which operates the International Wastewater Treatment Plant) contracts with the Public Utilities Department to conduct the ocean monitoring program at the South Bay Ocean Outfall. The outfall disposes of treated wastewater from the International Wastewater Treatment Plant and the South Bay Water Reclamation Plant.
Like the monitoring at Point Loma, throughout the year, water, sediment and fish samples are collected from offshore and near shore locations. Ocean samples are collected by boat from depths of 30 to 200 feet. These measurements provide information that serves as a baseline against which to evaluate the performance of the outfall.