Water Supply
The City of San Diego purchases 85 to 90 percent of its water, which is imported from Northern California and the Colorado River. An adequate and reliable water supply is vital for the future of San Diego. The Public Utilities Department actively pursues ways to increase our water supply and our options. This includes maximizing all local alternatives, collaborating with other agencies and reaching out to regional partners. Activities include planning and protecting the City's resources to support a safe and sustainable water supply.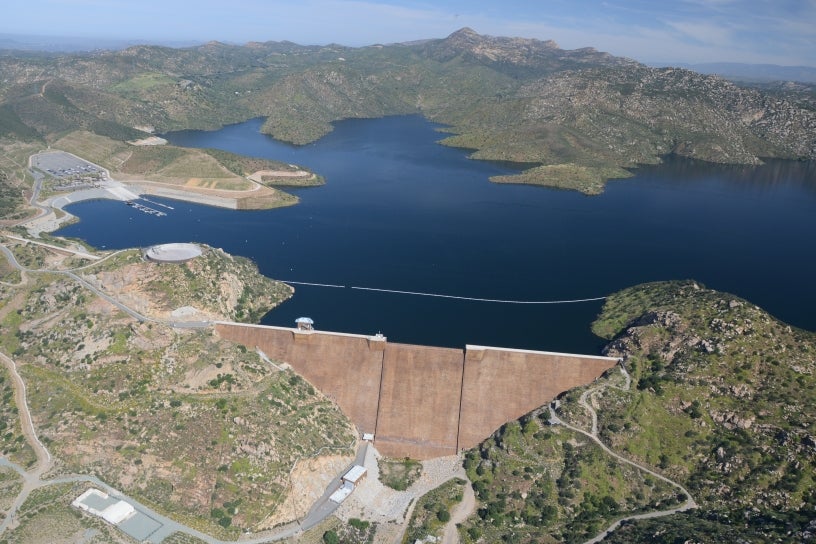 Programs the City is focusing on to help increase water supply include Pure Water San Diego, water conservation and recycled water. Below is additional water supply information, including long-range planning, water management plans, groundwater exploration and desalination.
Long Range Planning
The City's Urban Water Management Plan serves as an overarching integrated water resources planning document for the City's residents, businesses, interest groups, and public officials. This plan provides information current and future water demands and supplies, discusses water resources challenges, and summarizes major water resources initiatives that the City has proactively taken to ensure a safe, reliable water supply for its water customers.
The City's Long-Range Water Resources Plan is a high-level strategy document intended to provide information to decision-makers regarding the tradeoffs of future water resource investments, with a long-range viewpoint through the year 2035 planning horizon.
Groundwater Development
The Public Utilities Department is planning or developing several groundwater basins for municipal water supply and other beneficial use. Currently, the groundwater available for beneficial use is 500 acre feet per year (AFY) from the existing production wells in the San Diego River Valley Groundwater Basin. In 2018, the City started receiving an estimated 2,600 AFY of desalinated groundwater from the Richard A. Reynolds Desalination Facility or an equivalent amount from the Sweetwater Authority. This is a permanent addition to the City's diversified water supply.
California's Sustainable Groundwater Management Act of 2014 (SGMA) provides a framework for sustainable management of groundwater supplies by local authorities. Local agencies involved in the implementation must form local groundwater sustainability agencies within two years. For agencies in basins deemed high or medium priority, groundwater sustainability plans must be adopted by Jan. 31, 2022. By 2042, groundwater sustainability agencies in medium and high-priority basins should achieve sustainable groundwater management to avoid undesirable impacts, such as seawater intrusion, chronic depletion of groundwater, reduction of groundwater storage, degradation of water quality, depletion of surface water, or land subsidence.
The City has two groundwater basins that that are governed by SGMA legislation: San Pasqual Valley Groundwater Basin and the San Diego River Valley Groundwater Basin. On June 27, 2017, the City Council approved forming a Groundwater Sustainability Agency and the preparation of a groundwater sustainability plan for each basin to comply with the requirements of SGMA. The plans must be adopted by 2022.
San Pasqual Groundwater Basin
San Diego River Valley Groundwater Basin
Ocean Water Desalination
The City receives water from the Claude "Bud" Lewis Carlsbad Desalination Plant – the largest, most technologically advanced and energy-efficient seawater desalination plant in the nation. The $1 billion San Diego County Water Authority project provides a major drought resilient supply that meets less than 10 percent of the City's water demands and accounts for one-third of all water generated in San Diego County. For more information, visit the San Diego County Water Autority web site.