Bicycle Program
Jump to:
About Us
The Bicycle Program is a group of dedicated bicycle professionals working in partnership with public and private agencies and bicycle organizations. The goal of the program is to develop and maintain the safest and most convenient bikeway system possible in the City of San Diego as defined in the City's Bicycle Master Plan.
Bicycle Master Plan
The City of San Diego is committed to supporting bicycling as a form of mobility and recreation. As part of the City's long-term vision contained in the General Plan, the City supports the planning and development of bicycle-friendly development projects, streets, and neighborhoods for both commuter and recreational riders. To this end, the City has adopted a Citywide Bicycle Master Plan.
The Bicycle Master Plan serves as a policy document to guide the development and maintenance of bicycle facilities throughout the City. The policies in the Bicycle Master Plan address all issues related to San Diego's bikeways such as planning, community involvement, utilization of existing resources, facility design, safety and education, funding and more.
Bicycle Advisory Committee
The Bicycle Advisory Committee (BAC) meets on a monthly basis to discuss matters related to bicycle policy, safety and infrastructure.
Bicycle Facilities
There are three types of bicycle facilities identified in the California Highway Design Manual. Bike paths (Class I), Bike Lanes (Class II) and Bike Routes (Class III).
Bike paths, also termed shared-use or multi-use paths, are paved right-of-way for exclusive use by bicyclists, pedestrians, and those using non-motorized modes of travel. They are physically separated from vehicular traffic and can be constructed in roadway right-of- way or exclusive right-of-way. Bike paths provide critical connections in the city where roadways are absent or are not conducive to bicycle travel.
Bike lanes are defined by pavement striping and signage used to allocate a portion of a roadway for exclusive or preferential bicycle travel. Bike lanes are one-way facilities on either side of a roadway. Whenever possible, Bike Lanes should be enhanced with treatments that improve safety and connectivity by addressing site-specific issues, such as additional warning or wayfinding signage.
Bike routes provide shared use with motor vehicle traffic within the same travel lane. Designated by signs, Bike Routes provide continuity to other bike facilities or designate preferred routes through corridors with high demand. Whenever possible, Bike Routes should be enhanced with treatments that improve safety and connectivity, such as the use of "Sharrows" or shared lane markings to delineate that the road is a shared-use facility.
Sharrows
Sharrows are pavement markings that have been installed on City of San Diego Streets to provide guidance for both bicyclists and vehicles on roadways when sharing the road.
AB 1371 - Three Feet For Safety Act
This law requires drivers who pass cyclists from behind to keep their vehicles 3 feet away for safety.
Bicycle Racks
The City of San Diego Bicycle Program installs bicycle racks in the public right-of-way to encourage bicycling to daily activities such as shopping, riding to school, and commuting.
To request a bike rack for the right-of-way (sidewalk) in front of your business, please send an email with the following information to [email protected]
Name of Business
Contact Name
Telephone Number
Email Address
Street Address of proposed rack location
Number of racks being requested
Any additional info on the rack location details that may be useful for City staff evaluation
Rack requests should come from the fronting business owner. If you know of a business that would benefit from having a bike rack, please ask the business owner to follow the process above.
Once the request information for a rack is submitted it will be evaluated by City staff. The requestor will be notified of the evaluation results within 60 days of their request. Racks will be approved and installed as space allows. Racks, installation and maintenance will be provided by the City for approved locations. The following are examples of locations that are not acceptable for City bike rack installations:
Narrow sidewalks
On private property
On asphalt, grass, gravel, brick or other surfaces that will not allow secure rack installation. (Racks need to be installed on a concrete surface)
Residential addresses
Bus Stops
Locations that have conflicts with storm drains, parked vehicles, utility boxes
The City will be providing the following style and color of rack for approved locations: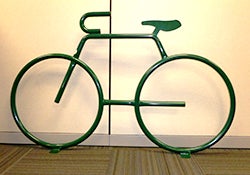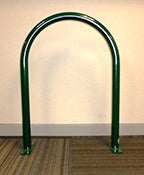 Bike Corrals
Bike corrals are on-street parking for bicycles. Corrals are typically maintained by a Business Improvement District (BID) and are installed by the City. The process of requesting a corral begins with the support of the fronting business and the local BID.
Bike Lockers
The Regional Bicycle Locker Program is a service operated and funded by iCommute, the regional Transportation Demand Management division of the San Diego Association of Governments (SANDAG). The program is designed to reduce congestion on the region's roadways and is part of the 2050 Regional Transportation Plan.
Bicycle Route Maps
The following bike maps are available to help you plan your ride:
San Diego Regional Bike Map
A paper copy of the San Diego Regional Bike Map is available at most bike shops or at the San Diego Association of Governments (SANDAG) office located at 401 B St., Suite 800, San Diego, CA 92101.
Bicycle and Scooter Sharing
The City of San Diego's official bicycle sharing partner is Discover Bike, owned and operated by DecoBike. In addition, there are other bicycle and scooter sharing companies currently operating in the City. The City's Climate Action Plan features a goal of 6 percent of San Diegans commuting by bicycle in certain areas by 2020. 
The City has shared applicable rules and regulations and safety guidelines with the bike and scooter sharing companies and is monitoring the operations to ensure the companies and their customers are aware of these rules.
Thank you for helping us achieve our Climate Action Plan goals! Enjoy your rides safely!
Pedestrian Hybrid Beacon Crosswalk
Pedestrian Hybrid Beacon Crosswalks help pedestrians and bicyclist cross mid-block across high traffic roadways.
Bicycle-Related Contact Information
Report a problem with a rideshare bicycle to the responsible company.
Report a pothole or request street maintenance: 619-527-7500 or complete an online service request.
Other Useful Information: