Recycling Ordinance Update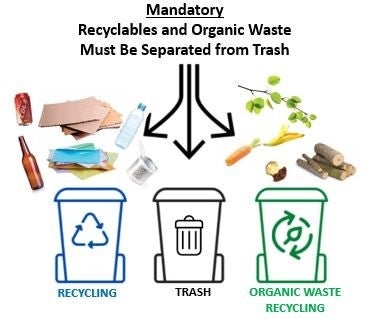 The Recycling Ordinance is a mandatory policy requiring the public to separate recyclable material and newly added organic waste materials at residences, businesses, mixed use facilities and permitted special events. Click here to read the full Recycling Ordinance. 
Recyclable materials include

Plastic, glass bottles and jars, paper, newspaper, metal containers, cardboard, rigid plastics including clean food containers, jugs, tubs, trays, pots, buckets and toys.

New organic waste recyclable materials include

Food scraps and food-soiled paper from kitchens and food operations and yard waste such as garden and landscape waste and nonhazardous wood waste.
 The recycling ordinance updates ensure the City is complying with the mandatory state law Senate Bill 1383 (SB 1383). The new law requires the reduction of organic waste currently disposed of in landfills.
Organic waste recycling turns food and yard waste into compost or a gas by breaking down the organic material into healthy soil nutrients or electricity. Learn more about SB 1383 in San Diego and details of the California requirements.
How the New Rules Impact You